James Innes is the person behind the CV Centre writing service. He is an author of career books. I'll be honest: I had no idea who he was before I saw his name at this website. I googled the name, and found the same claims: apparently he wrote several best-selling career help books (five, to be more precise). For best-sellers, they don't have many reviews on Amazon and Goodreads. I'm not trying to be negative here. Just stating the obvious.
Anyway, the website looks promising. I ordered a CV and a cover letter there, so we'll discuss the quality of those products in this CVCentre review.
Offered Services
You won't find the resume format here. It's a UK writing service, so CV is the only form of a job application document offered. In addition, you can get these products from CVCentre.co.uk:
LinkedIn profile (and online presence, but I'm not sure what you get under that service)
Cover letter
Business photo editing
Application forms and personal statements
Interview coaching
Proofreading
Career advice books
James Innes Premium
The James Innes Premium service is the highlight of the list. It's a one-on-one coaching session with the founder of the website. It lasts for half an hour, and you'll get expert career advice. But it's way too pricey. Let's talk about the prices; I know you're all interested in them.
Prices, Discounts and Special Features
The one package that stands out for this service is the James Innes bundle. The bundle includes a CV and a 30-minute voice chat with James Innes for £599. Before I address how outrageous that sounds, I should point out that the bundle also includes a cover letter and a LinkedIn profile.

JAMES INNES'S " HANDPICKED TEAM OF EXPERT WRITERS" CRAFTED the CV, the cover letter, and the LinkedIn profile (or career documents). This probably suggests that you will get a top-notch CV. As you will see, this wasn't the case for me. James' team may not be as experienced as he is, and the CV cannot possibly be better. Again, there are 30 minutes of chat with him to discuss your needs and queries. That is simply not enough time to iron out every issue you may have about improving your CV.
Previously, there was a 2-hour chat with James that cost £799. However, it was unpopular and consequently removed and replaced by the current bundle.
If you don't want your CV written by James Innes' team and have a 30-minute talk with him, you can opt for the following bundles:
Early Career CV: 0-3 Years Experience – £40;
Next Step CV: 3-10 Years Experience – £70;
Advanced Career CV: Over 10 Years Experience – £90;
Specialist CV: For Niche Professions – £170.
Let us look at some of these packages in detail:
CV Writer – You will get the first draft after three days. After that, you can ask for unlimited drafts until you are satisfied. If you want to get the first draft in less than four days, you'll have to pay at least £20. Even then, you can only get it after 6-72 hours. Makes little sense, right? There's also an option to chat with your writer.
Senior CV Writer – You will get the first draft within 49 hours (it depends on the workload of the authors). You can ask for revisions until you are satisfied. You can chat with your writer during the project. There's a call available as an "Optional Extra." You can jump the line if you have a tight deadline, but you will have to pay £100. Your first draft will be available within 6-72 hours. Ridiculous!
Premium CV writer – James Innes' picked team will handle these. You can chat with your writer or place a call. The first draft will be available after 5 days. Or you can jump the que by paying an extra £100.
But there's one bit about the whole thing that may just make you opt for these services. There are example CVs for each package that you can look at before making a choice. There are at least two example CVs for each package.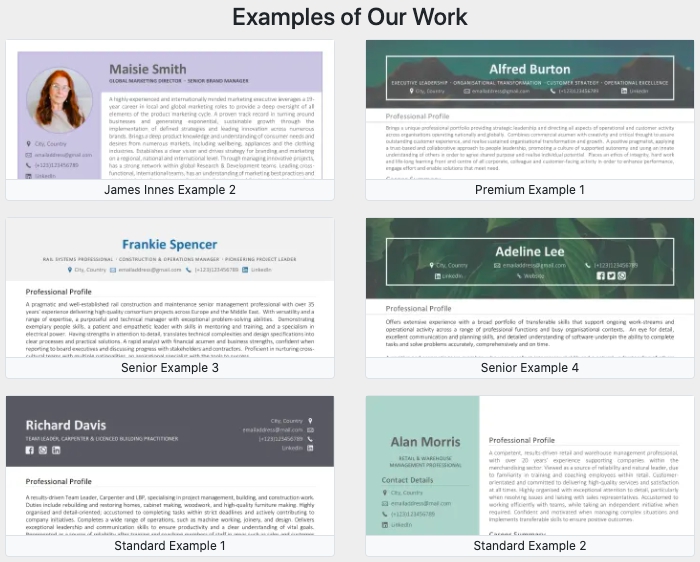 The prices for a LinkedIn profile are also included separately. Unless you choose the James Innes bundle, you will have to buy a LinkedIn profile separately. Here's how they are priced:
Professional LinkedIn profile for £60: The explanation is that your LinkedIn profile will be completely overhauled to show your professional personality. It will be optimized with researched keywords to make it easy for recruiters to find your profile. There will be no spelling or grammar mistakes.
Senior Professional LinkedIn Profile for £100: The explanation here is that a member of the A-Team will completely overhaul your profile to help you get noticed. That's it; they don't say what they will do. It makes you wonder what you are paying for. I would like to know what the company will do that is worth all that money.
Premium LinkedIn Profile £140: There's no explanation here as well apart from "Premium LinkedIn Profile." Again, there is no way of knowing what they will do for your profile. It's not clear whether the explanation for the professional LinkedIn profile works for all profiles. If it does, then there is no reason to charge you all that extra money.
For cover letters, again, you will have to pay extra for each category as follows:
Cover letter for £40: You get your cover letter done by your writer. You can also get a personal statement if you want.
Senior Consultant Cover Letter for £80: Your cover letter and personal statement will be drafted by a member of the A-team.
Premium Cover Letter for £120: James Innes's handpicked team of experts will draft your cover letter.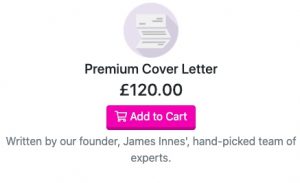 There are several ways to pay for your services listed on the website. This is probably the first website with more than three payment options. This gets the website one extra vote.
Writer Certifications and Service Guarantees
The founder of the CV Centre gives you his personal guarantee that the team will revise the document until you're 100% satisfied with it. You don't get any information about the certificates and experience of the writers. We only know that James Innes wrote five career books, and he's committed to personal branding.

There are no other guarantees other than the promise for satisfaction. The Privacy Policy has its issues. The service employs freelancers and companies, who can get your personal information. They are required to handle your data in complete privacy, but the service makes no guarantees. What if someone publishes your CV? Who will you hold responsible?
Quality of the Ordered Product
£599 to get a CV written by the star of the CVCentre.co.uk? Yes. I was that curious.
As soon as I placed the order, I contacted the support to see when I could contact the author. This service gives you a voice chat with the best-selling author himself. I got a response: this was only a pre-order. The expert would have to check their schedule and get back to me, 'cause he's such a star and all! I got a message the next morning, scheduling a chat for the next day.
The chat went okay. James asked a few questions about my career goals, and said they would get my CV ready in a matter of days.
When I got the content, it was just another average CV. There's nothing special about it. I complained, calling out the service for its satisfaction guarantee. I got a response that CVs have to come in a standard format, and there's not much space for creativity. I would have to object to that. Plus, why charge such a high amount for something that any other author could have completed?
Meeting of Deadlines
There are no deadlines at CVCentre. Once you place an order, you have no idea when it will be ready for you. You can't hold the service responsible for delays, since they make no promises about speedy delivery.
I got my CV in five days after I "pre-ordered" it.
Website Usability
Having a user-friendly website is the aim of every writing service. The one major thing you can pick up from cv centre reviews is how easy it is to navigate their website.
Some people aren't conversant with websites that are too complicated, because it can be difficult looking for a particular service. However, that's not the case with Cvcentre, as they have taken extra precautions to make sure you can properly access their website even on mobile phones.
On their website, you can see how to choose a particular cv writing package according to your budget.
There's a special section dedicated to the centre cv review, and you can see what previous customers have had to say about their service. This alone is enough to convince anyone as to why they need to use their service.
Another important thing to note in this Cvcentre review is that they have all of their company's information on their site, which is a plus. There's a FAQ section that answers all of your questions in detail, and that way you won't have any issues placing your order.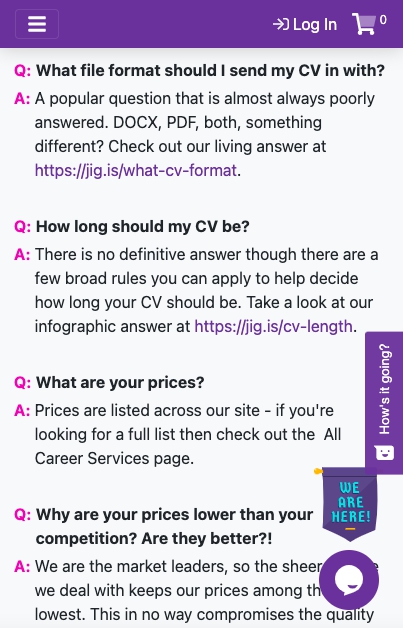 Their customer support team is readily available to attend to your queries as well, so you aren't left in the dark.
With Cvcentre, you cannot be left stranded, there's the option for you to see other cv writing examples and even if you are still uncertain about what works for you, you can always send them a message.
Key Takeaways
If you decide to use CV Centre, don't hire the star. There are too many exaggerated claims on the website. They are not supported by facts. If you look at the samples, you'll see what I'm talking about: they are simply variations of a standard template. You can complete such a CV without paying hundreds of dollars for it.
Users CV Centre Reviews
I did notice majority of their reviews on Google are from accounts with only 1 review, which suspiciously seems like they're fake accounts created just to write that one review. Some reviews on there were from people saying they got plenty of offers as soon as they submitted their CV made by CV Centre. LOL
AL JOHNSON
July 23, 2020