CV writing from only £45? Most job applicants would say "I'm in!" But for me with a bit of experience with online writing services, the price is shady. High-quality writers, who invested in certifications, won't write for such a low price. The turnaround time is only two days, and that made things even more interesting.
After reading other Purple CV reviews, I decided to try this cv writing service by myself and see what it offers. I ordered a package there. It was so cheap that I couldn't help myself; I had to order something more than a CV. Are you as curious as I was? I'll share all the details in the review that follows.
Offered Services
You can get four types of CVs from PurpleCV.co.uk:
Early Career (0 – 3 years of experience);
The Next Step (3 – 10 years of experience);
Advanced Career (10+ years of experience);
Specialist (for niche professions).
The Specialist CV is more expensive. All others, however, are quite affordable.
Under the category "Accessories," you can get a cover letter & LinkedIn Profile. The only thing I would love seeing in addition to these services is a thank-you/follow-up letter.
Prices, Discounts and Special Features
The prices here are very affordable. You don't often see a price of £45 for a CV. If you want a package of a CV, cover letter, and LinkedIn profile, you'll only pay £90 (that was the package I chose). It's an entry-level job application package for applicants with 0-3 years of experience. The Specialist CV costs £175. When compared to the other offers, it's much more expensive. Just for comparison, an Advanced Career CV costs only £95.
Why is the Specialist CV so expensive? It's specifically tailored towards your niche industry. This explains things: the other CVs are generic; that's why they are so affordable.
You can choose from eight packages:
Early Career Package Deal – you save 25 pounds
This is a package that gives you a chance to have your starter CV with a couple more inclusions – you will really need them. Instead of spending 45 pounds (which is an excellent deal, to be honest) on just the CV, you can spend more and get your cover letter and LinkedIn profile done by professionals. The package indicates that you get to save up to 25 sterling pounds. The turnaround for this is still the same as the next two packages.
Next Step Package Deal – you save 35 pounds
It seems that the higher your CV rank, the better deal you will likely get from PurpleCV. This deal is even better for those with three or more years of work experience. The 110 pounds for a next step CV, a cover letter, and a professionally done LinkedIn profile is more than a decent deal. It would've been better to have the previous package slightly cheaper. That is because there's only 20 pounds more between the two. However, no one will be complaining if you get a good CV at that price.
Advanced Career Package Deal – you save 45 pounds
With an advanced career CV, paying more shouldn't be an issue. You may also need to have an even better cover letter and LinkedIn profile. It's not clear whether the LinkedIn profile will reflect everything you need it to be for the price on this package. It's easy to assume that for 120 pounds, you will get all these. Unless the company creates a generic cover letter and a template LinkedIn profile, this is a superb deal for those with an advanced career. I read some Purple CV reviews on Trustpilot and many customers seem to like this package. It's worth trying out.
Specialist Package Deal
This is the ultimate package, and it's available for those who want a CV that specializes in one field. A CV like this has to be written by someone who has a lot of experience in your particular field. That is why perhaps the price is that high (compared to the other packages). It's 195 pounds for the CV, the cover letter, and the LinkedIn profile. Again, the cover letter and the LinkedIn profile have to address what you need here as a specialist. If it does, then this is still an awesome deal for you. One concern will be the slight difference in prices for just the CV and the package (cover letter and LinkedIn profile). The 20 pounds difference may suggest a rather shallow LinkedIn profile – it's not very clear.
Another thing worth mentioning is that packaged deals are better compared to what you'd get if you decided to go with individual packages and add the additional services. For instance, if you choose to add the cover and the LinkedIn profile after choosing to order an early career CV, you will pay 115 pounds instead of just 90 pounds with the package deal.
There are three payment methods: Paypal, Google Pay, and a credit or debit card payment.

Writer Certifications and Service Guarantees
The founder of Purple CV has over 15 years of experience as a recruiter and HR expert. He has reviewed many CVs over the years, so he's supposed to know what a proper application looks like. However, there's not much information about the writers at this website. We don't know who writes the CVs. Is it Andrew, the founder? Can he handle a constant stream of orders with two-day delivery guarantee?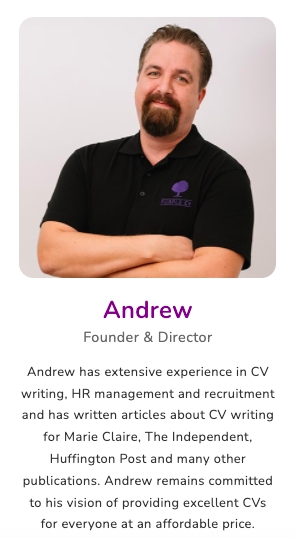 The website lists their team, and you can read about who they are and what they do. However, you can't see any writers. This begs the question of who writes the CVs. As I just said, it's impossible for Andrew (Founder) to write the CVs all by himself. However, you will get a writer for your CV. There's no way to communicate with your writer. I had to find out if anyone had used purple cv before and their experience. I looked for purple CV reviews Reddit users had written.
From the look of things, Purple CV takes very good care of its image on social networks. They have a very nice LinkedIn profile themselves with a good number of connections to go with it. Social media pretty much tells you what you need to know about anyone these days. Hopefully, the company can think about making their writers part of their team. That way, you know who exactly is working on your CV.
For guarantees, your CV will be ready by the said time – 2 working days. There's still room for improvement to ensure clients can get their queries addressed on time. This may happen once they make the writers public on their website – just like they have done with the team.
Quality of the Ordered Product
After placing the order, to write my Purple CV review, I read through the website and realized that for this price, you're not getting a CV targeted at your niche. It's just a template filled in with the information you provide for the team.
There are plenty of free templates online. Instead of paying money to get this kind of CV done, I recommend filling such a template instead.
As for the cover letter, it was a complete disaster. It was just a template filled in with my name and the position I was targeting. Content like this does not work for serious job applicants.
Meeting of Deadlines
PurpleCV.co.uk promises to deliver your CV in two days. If you need it sooner, you can use the "Express Service" accessory. For only £40 extra, you'll get your order prepared within 24 hours. However, keep in mind that you can't get a Specialist CV under this deadline. The deadline for that one is five days, and there's no flexibility around it.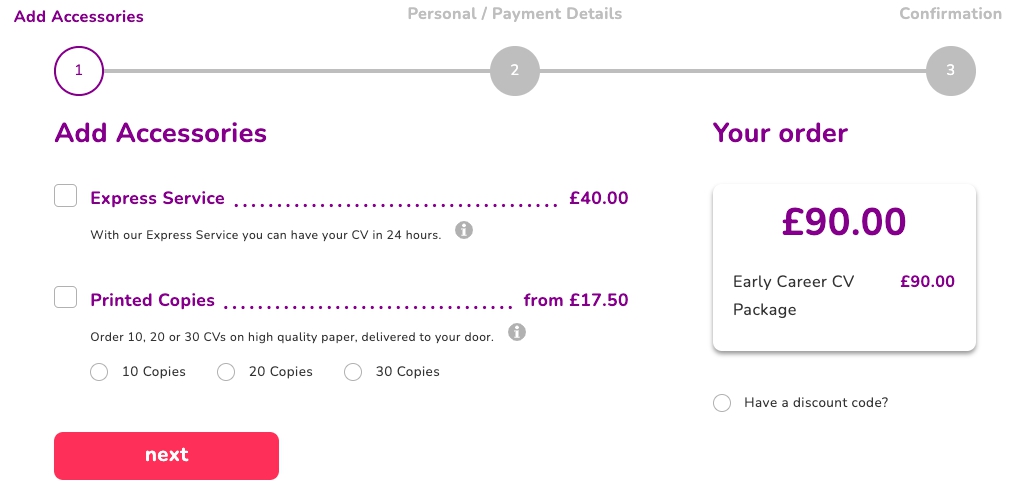 Purple CV Trustpilot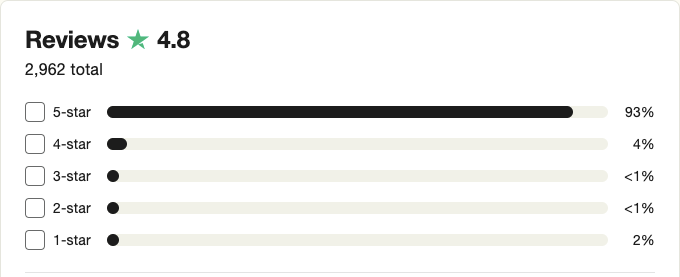 So, the reviews are amazing. But don't be fooled.
For example: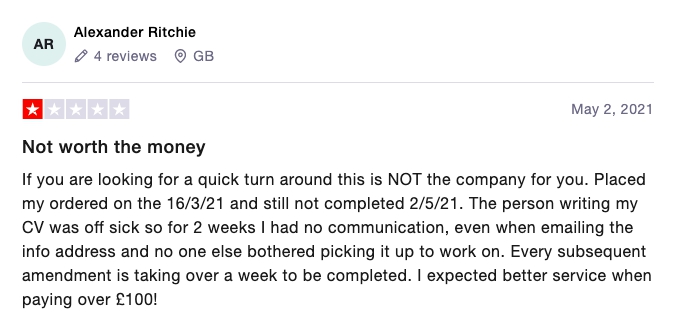 Purple CV Reviews – Key Takeaways

I was impressed by the cheap prices at first. However, after receiving the CV that I ordered, I realized it was not worth the price. £45 is not much, but it's not an amount I'd like to waste.
If you don't mind getting a CV based on a template, I suggest filling in the template yourself.
Users Purple CV Reviews
Not great
I have received my CV on time but the qualification and education dates were all over the place, not in a specific order. In addition, some information was missed. When I contacted the CV writer, she added them to the CV. This shouldn't have happened. Not great for the price they charge and very disappointing.
Corina D
June 18, 2021
SCAMERS
Complete RUBBISH!! paid £45 to get CV help. FORCED TO PAY ANOTHER £105 for some "specialist"….? After I stupidly paid it they went silent, having to phone about find out what's going on. I get some shit word template cv back, when emailing saying it's terrible they all go silent.
DONT WASTE YOURE MONEY WITH THEM!!
Oliver Humphries
February 19, 2021
COPY AND PASTE EXPERTS
Worst experience ever! I placed my order on Thursday last week after reading the reviews. I receive my CV the following and to say that I was shocked was an understatement. It was clearly a copy and paste job – Waseem
Didn't even bother to put the right details on there. I complained to the manager and the order was passed to somebody else.
After waiting 3 days (turnaround is 2days) I emailed the new CV writer and waited another day but I had no response. I called the head office for an update but they couldn't help either. So it's a waiting game which is something you don't need when you need to be applying for jobs. I am very disappointed.
sammuel Akuma
January 21, 2021
Half-baked bread bakery
I can assume that for the people who are eager to receive their first CV or don't know where to start writing it, it might appear like excellent service. I beg to differ. Very unprofessional. Communication is lacking professional manner and guiding explanations. You are hanged dry
Karel Frantisak
November 20, 2020
I purchased the "Advanced career CV"
I purchased the "Advanced career CV" on Wednesday 8th, expecting the first draft on Monday 13th, the latest . I receive an email from Julia, saying that it would take 3-4 working days (instead of 2 as advertised). Fine, I'll wait. The next Wednesday 15th, I get an email again asking for *even* more time, copy pasting from a template (you could tell easily by the font differences). Not a great impression when you're trying to get something written specifically for you, right? Julia eventually sends me the first draft on Monday 20th, with some dates missing and my name misspelled. Although the format is obviously a template (I had seen it before when I was recruiting for my work), the content was very good and she went out her way using my LinkedIn profile. I like it, but I ask Julia to tailor the format a bit and make it less busy. No answer at all for a week, only replied when I chased her with a second email. She sends a second cv still misspelled, still dates missing. Fine, I give up — I'll edit it myself.
A
July 29, 2020
If I could give this company no stars I would
The package that I selected was the £85 option for people that have been in the industry between 3-10 Years. This package was supposed to include CV and cover letter and a LinkedIn profile. I submitted my old CVon the Monday 16th of March along with a job description of a job I was going to apply for. This was purchased in the evening on the Monday around 10pm. On their website it states that you will get your completed CV back within two days. My CV was sent to a CV writer on Tuesday morning called Sophie. Theoretically I should have received my CV by Thursday evening at the latest. I never received any sort of confirmation that purple CV had even received my CV the only confirmation I got was via PayPal receipt. I made contact with them and they said that it was fine and being dealt with. Quickly the CV writer Sophie responded to me saying that my CV should be ready by Friday. Already this was out of the time frame. I have had more headache chasing this company than I would have writing my own CV and cover letter. The whole point of me using the service was because I didn't have enough time with working a full-time job, to sit down and rewrite a CV cover letter and LinkedIn profile. As of Saturday morning I still hadn't heard anything. So I emailed the CV writer and she said that she would then have the CV to me by mid day on Saturday. Lo and behold it never arrived. I got back in touch with her and she claimed that she sent everything over via email. Which was very ironic as she told me this all via email. However the email with the CV and all the documents on have never been sent through. When I asked for proof of this she said that she couldn't send it over email I want to send it via What's app. I got a photo of the laptop and the email typed out but no confirmation that it had been actually sent. The job that I originally wanted to apply for had closed and I was back to square one.
LUCY CAMPIN
March 21, 2020