When I first saw Professional-CV-Writing, one detail caught my attention: the team brags with an excellent reputation through Trustpilot. When I opened the link to see the actual reviews, they all seemed too similar and generic. They have the same word count, similar claims, and one thing in common: they are all positive.
You get the picture: they look like reviews that somebody would order from a writer.
But that's just an assumption. I can't base my review on assumptions. I decided to ditch that initial doubt and test the CV writing service to see if it's good enough for the price you pay.
Offered Services
CV writing is the main type of service offered at Professional-CV-Writing.co.uk.
You can also get a "free CV review," but that's just a trick for the team to push you towards an actual order. I tried that service, and I got scarce feedback that looked like this: "The CV lacks character. Allow us to improve it. Place an order today and we'll give you the best price."
So that's not an actual service.
In addition to a CV, you can also get a LinkedIn profile, a cover letter, and a personal statement. Other services include a Kickstart program, interview technique training, professional bio, and career coaching.
Prices, Discounts and Special Features
There are three categories of CVs here:
Early career, starting with prices from £119
Professional career, with prices from £179
Executive career, with prices from £249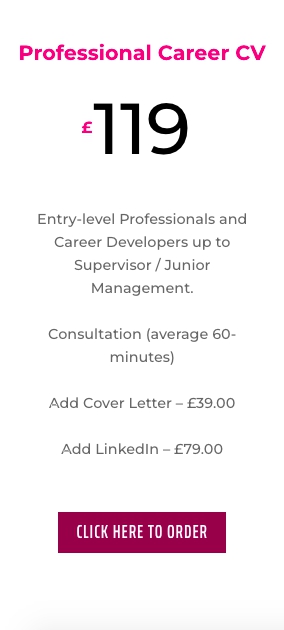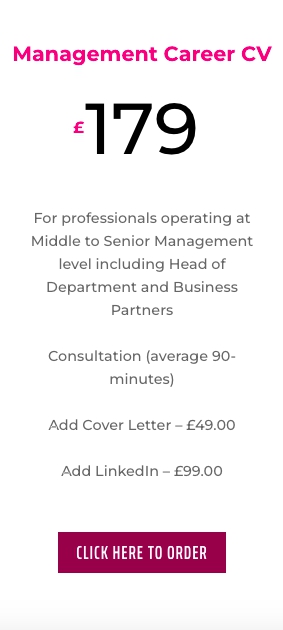 The "from" price is for CV only. If you want to order a CV, cover letter, and LinkedIn profile of Executive Career level, you'll pay a price of £437.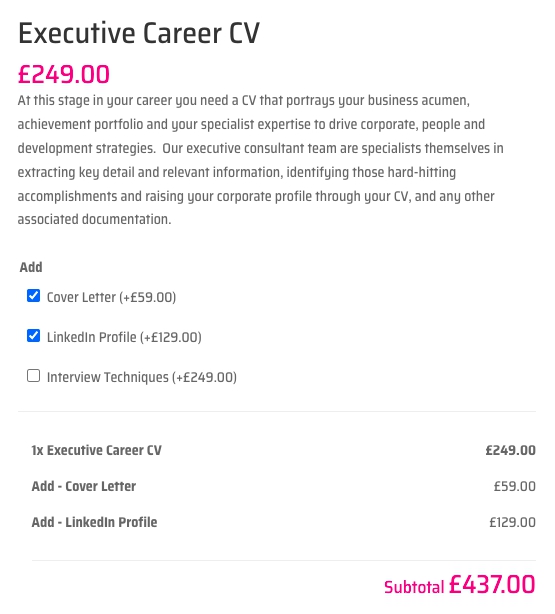 Everything was going great until I noticed the high prices. Compared to other UK services, this one seems to be on the higher side. To add salt to the injury, the deadline is not specified. The last time I checked, the packages were priced as follows (CV + Cover Letter + LinkedIn):
Professional career, with prices£237
Management career, with prices £327
Executive career, with prices £437
These are all high prices compared to what you receive from other services. The prices are inclusive of other extras that the website offers, including cover letters & LinkedIn profiles. You will also get consultation services by phone from each package as follows:
For professional career, you will get 60 minutes
For management career, you will get 90 minutes
For executive career, you will get 120 minutes
The service also promises to deliver your CV in two different formats if you want – word document or PDF format.
Writer Certifications and Service Guarantees
The writer qualifications seem impressive. In the About Us section, you'll see a claim that all professionals have at least five years of direct exposure within HR and recruitment. If that's true, it means that a real hiring manager or recruiter would write my job application documents.
Claire Lyon, the leader of this team, has two decades of experience with consulting job seekers. I googled for a while, but I couldn't find a consulting professional under that name.
Quality of the Ordered Product
I ordered the most expensive package from Professional CV Writing. I couldn't find out what the deadline was. I browsed through the entire website, and it lacks clear information on timing.
The order form says "standard turnaround," but it doesn't identify what that means. I contacted a customer support agent. I waited for two days to get an answer. As it turned out, five business days was the standard turnaround.
I waited for eight business days. No sign of my documents.
The writer didn't call me for an interview, although the terms and conditions mention such a consultation. So I waited.
When the order was finally prepared, I wasn't happy with its quality. The CV wasn't too bad. It was a basic Europass format filled in with the information that I provided. I could've completed it in five minutes, and I would've saved £249.
The LinkedIn profile was a mere rewrite of the CV. It showed no character and no career aspirations.
The cover letter was the greatest disappointment of all. The writer made grammar mistakes that would make a high-school student laugh.
Meeting of Deadlines
The deadline was my biggest issue.
When I don't see a clarified delivery time, I know I'm in trouble. I have experience with such services, and they always take their time. That's why they don't disclose any deadlines at their sites. I really think that this is the first aspect for Professional-CV-Writing.co.uk to improve.
Key Takeaways
I noticed that there's much more you can get from the company with the different packages. I opted to test out one of these features. For example, they promise "unlimited amends." That's pretty bold in my opinion, but I had to test it out and see. I sent them my CV and pointed out a few errors made in the work experience section. They amended that section and sent it to. There were other concerns that they addressed as well. I checked for reviews from earlier customers to see the consistency of this feature. Yes, they indeed offer unlimited edits to their customers. However, I couldn't get them to recheck my CV for errors after paying them. It seems minor clarifications are not accounted for in the "unlimited amends" feature.
The website lacks basic information that would enable you to set some expectations. Not disclosing deadlines is a serious issue. You have to get your job application documents by a precise deadline. Otherwise, you'll miss the application timeframe for a position you really like.
Users Professional-CV-Writing Reviews