CV People UK is a straightforward service. You know what you're getting, and how much you're supposed to pay for it. The website is not stuffed with too much content. That's something I always notice, and I like the clean appearance of this one.
I also liked the process as it was explained. CVPeople is supposed to offer a consultation with your writer. Then, you can expect the first draft within 48 hours.
The website looks nice and the prices are affordable. But is the quality good and whether they are one the best CV writers UK? That was my main question, and I couldn't answer it just by looking at the site. That's why I ordered a CV there. I'll share the experience in my CVPeople.co.uk review.
Offered Services
There are five main services offered at this website:
CV writing
LinkedIn profile optimization
Targeted cover letter writing
Document translation
Academic CV writing
I liked the addition of academic CV writing to the services. Kudos to that! It's not something that most other services offer. An academic CV is much different from the usual CV needed for a typical job.
The CV writing service is further divided into these categories:
Student and graduate CV
Professional and trade CV
Management CV
Executive CV
The only thing I'd like to see added in the future is a resume. Many British job applicants aim for positions abroad. They need to submit resumes instead of CVs, so it would be nice to get the full offer here.
Prices, Discounts and Special Features
The most popular package, which is consistently mentioned across the website, costs £179. It includes a CV, cover letter, and LinkedIn profile. It's a very affordable price for all these services.
However, that price is set for Graduate level. It increases in accordance with the level, and it reaches £345 for Executive.
If you only need a Graduate CV, you'll pay £99 for it. An Executive CV costs £265.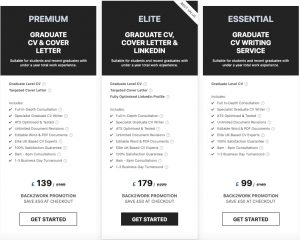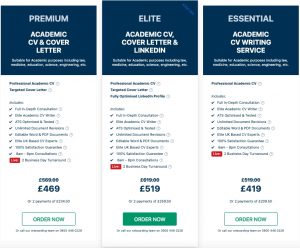 Writer Certifications and Service Guarantees
This is what the website says: "All our professional, certified CV writers hold English writing qualifications."
That's a very vague statement that doesn't tell us anything. What kind of English writing qualifications do they hold? This only made me assume that these are non-native English speakers, who passed a language test. Unfortunately, my experience with the agency proved me right.
The company guarantees to deliver your first draft within two business days. That's nice. But it doesn't tell you when the actual document will be ready. I didn't see a precise deadline for the final delivery.
Quality of the Ordered Product
I ordered the Executive CV and cover letter package. I provided all the needed details in the order form.
When the writer contacted me for a consultation, we didn't talk much. He only said that based on the information in the order form, he already knew what to do. Those were just dry details that didn't express my career goals. Maybe the info was enough for a CV, but it wasn't good for a cover letter.
Anyway, I decided to wait and see what happens.
In two days, I got the draft for the CV. It was nothing special. The writer followed a basic format, so this was just a usual CV that an employer has seen hundreds of times before. I didn't get the draft for a cover letter. The writer explained that the guarantee was valid only for the CVs.
So I waited some more. In five business days, I got both documents. The CV wasn't changed at all. It was the same document, although I asked for some improvements. The cover letter was a complete rewrite of a sample that I easily found online. It mentioned generic career goals and it had nothing to do with my aspirations for a future career.
Meeting of Deadlines
The deadline is unclear.
You will get the first draft in two business days. The writers respect that guarantee. However, you won't know when to expect the final draft if you ask for improvements. Even if you ask for revisions, you can't be sure that the writer will respect that requirement. In my case, I got the same document that was supposed to be a draft.
Website usability
CVPeople's website is not very easy to navigate and it loads quite slowly. On many occasions, some parts of the pages didn't open, and their mobile optimization is terrible. While you can see some pages on mobile, the calculator often doesn't work, and the design is all messy.
Even though they could improve in this, we found some things that are good about the site design and information. For starters, there's an informative FAQ page where you can find tons of useful information about the company's services and prices. This is good since their support takes long to respond to messages, so we read most of the answers in this page.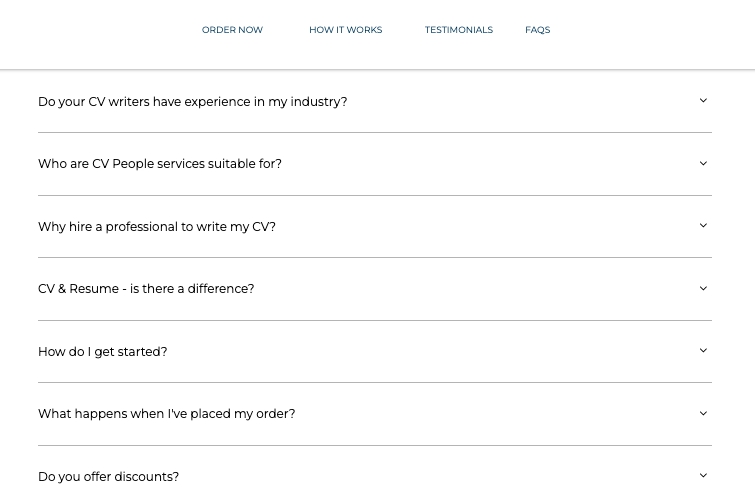 In addition to this, CV People has a long testimonials page where you can read nice words that customers have said about the company. Still, even though I bought from this service, I wasn't provided with the opportunity to leave our feedback for this page, so I amn't sure how customers are writing their comments to be placed there.
I sent my feedback to the customer support, but it was never published on the website.
And here is the founder of the company: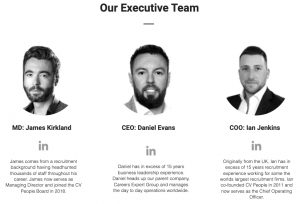 Trustpilot
One of the most trusted sources for testimonials is Trustpilot and, even though CV People has existed for a while, their company profile on this platform is empty. This is very concerning. They have testimonials on the website that date way back, but not a single comment on Trustpilot, even though they claim to have a high rating there.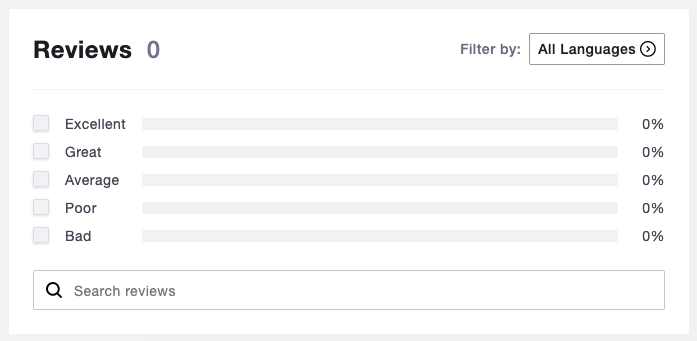 It looks really strange and makes us wonder if CV people UK has deleted their profile because of bad reviews. Alternatively, Trustpilot's administration could have removed this company because they violated their rules, which is also not a good thing.
One way or another, this indicates that the website has a poor reputation outside of their testimonials page, especially since I couldn't find any of the positive reviews we read there on trustworthy websites.
Key Takeaways
I didn't like CV People UK. I started with a positive impression, but the writer managed to ruin it. The quality of the content wasn't good. Although the price is affordable, it's best to take your money elsewhere.
Users CV People Reviews