When I was searching for CV writers UK to review, this was one of the first suggestions I got. A friend of mine used this service and wasn't sure if she was happy or not. When I saw the CV, I told her she shouldn't be happy with it. It was a mere list of qualifications. A CV is a list of qualifications, but they should be structured in a way that makes the candidate relevant for the job. In this case, the writer failed to meet those expectations.
I still decided to review CV KnowHow in detail. I placed an order with extensive instructions, hoping that it was my friend's fault for receiving such a bad CV because she didn't collaborate with the writer. I took a different approach. Are you interested in the results?
Offered Services
CVKnowHow offers CV writing services in three categories:
Professional growth
Career evolution
Executive priority
These are just fancy names for an entry-level, career change, and executive resume.
The team also offers a LinkedIn profile makeover. Keep in mind that they won't complete your LinkedIn profile from scratch. They just offer editing services that are supposed to make it better.
That's it. CV writing/editing and LinkedIn profile editing is all you can get at this website.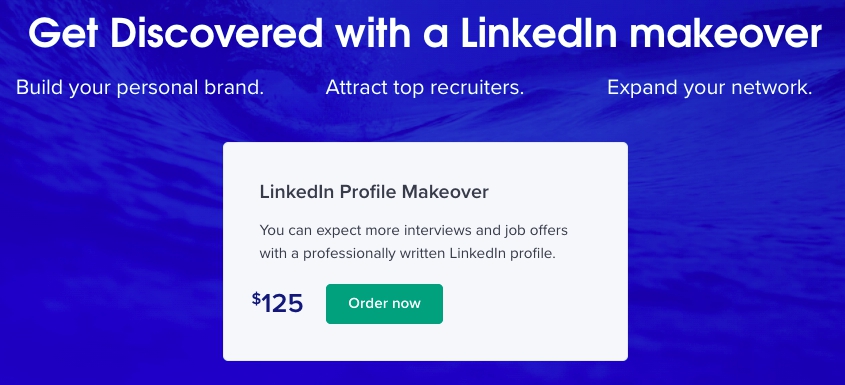 They don't deliver cover letters as individual documents. However, a cover letter is included in the Career Evolution and Executive Priority packages.
Be cautious about the package you choose. From the ill CVKnowHow.com cv reviews on Trustpilot, you might spend fortunes on a service that might disappoint you.
Prices, Discounts and Special Features
The prices seem reasonable if you expect a high-quality CV. For the Professional Growth category, they start at £99. You can pay in three installments of £39, but you're paying £117 in total that way. Career Evolution comes with prices starting at £129, and Executive Priority is quite expensive: from £219 ( or £240 if you pay in three installments of £80).
There are no discounts and special features here.
It's a plain website that offers two types of services and nothing else. It also lacks a blog, which I don't like at all. Professional writers have tons of experience that can help job hunters to land an opportunity. At most other websites of this type, the writers share those insights for free through the blogs. This is just a salesy site that doesn't offer any samples or blog posts.
Writer Certifications and Service Guarantees
CV Know How claims to have over 1200 writers across 65 industries. They promise to pair you with an expert from the industry you target. That's great, but it's a rather exaggerated claim. A writer of such level won't deliver a plain CV based on the most common template.
As for the guarantees, they offer a 60-day interview guarantee for the Career Evolution and Executive Priority packages. That's impressive, but why isn't it included in the Professional Growth package? Most entry-level candidates need the most affordable service, so they will choose that one. Not providing them with a guarantee that they deserve is not fair at all.
Quality of the Ordered Product
After looking through the website and seeing what my friend got from this service, I set my expectations low. Still, I made a lot of effort to collaborate with my author and I practically tried to guide him through the process of writing. I requested a CV for a tech lead, and I explained everything about the company I targeted. The writer was responsive to my messages. He responded in the middle of the night, which made me think he was located in a different time zone.
Regardless of this effort to collaborate as much as possible, I still got a plain CV that doesn't work for most candidates. You could get an Europass form and fill it in with chronological information without spending so much money on a useless service. Proper CV writing is a fine art. This team isn't close to understanding it.
Meeting of Deadlines
This is another problem: there are no deadlines at the website. They won't guarantee timely delivery. They won't allow you to set a deadline. You just pay the price and wait.
I got my CV in 5 days, but maybe I was just lucky. When you don't know when to expect the document, the writer may be late, and you won't get a refund because they didn't promise early delivery.
Individualized approach
When I was preparing this CV KnowHow review, I was particularly interested in seeing how the agency collaborates with its clients in terms of an individualized approach. It turns out that the prices are not very different compared to the usual service, but I think there's a good reason for it. I had a personal experience with one of their authors – this can probably be called "individual work", but I certainly didn't feel like it.
Trustpilot | CV Knowhow review
I checked the CV KnowHow Trustpilot reviews to see what other users think about this agency. People seem to like it based on the ratio of reviews. I found 79% of positive reviews and 9% of bad experiences. More importantly, my analysis showed that the positive reviews on Trustpilot look pretty natural. I think it's fair to assume that most reviews come from real customers. On the other hand, the same goes for negative reviews. They are also very detailed and natural, so they can definitely be trusted.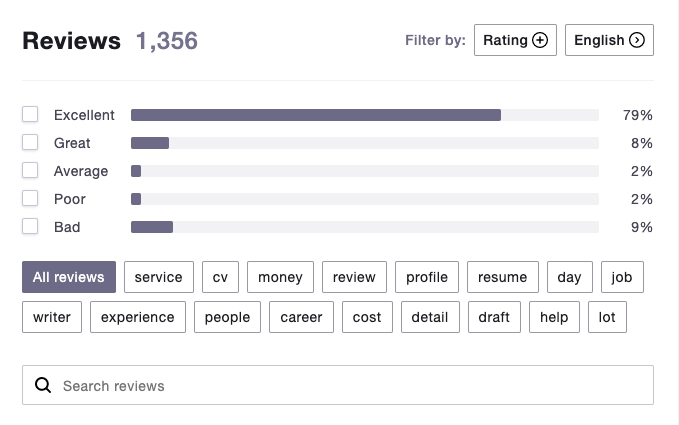 Analyzing the ratio of the cv knowhow reviews on Trustpilot, you can see that the 2- and 3-star reviews look unnatural (there are too few of them). Yes, the 5-star reviews may be real, but we know that companies purchase 5-star reviews to boost their service rating.
Let's take a look at one negative review and analyze it properly.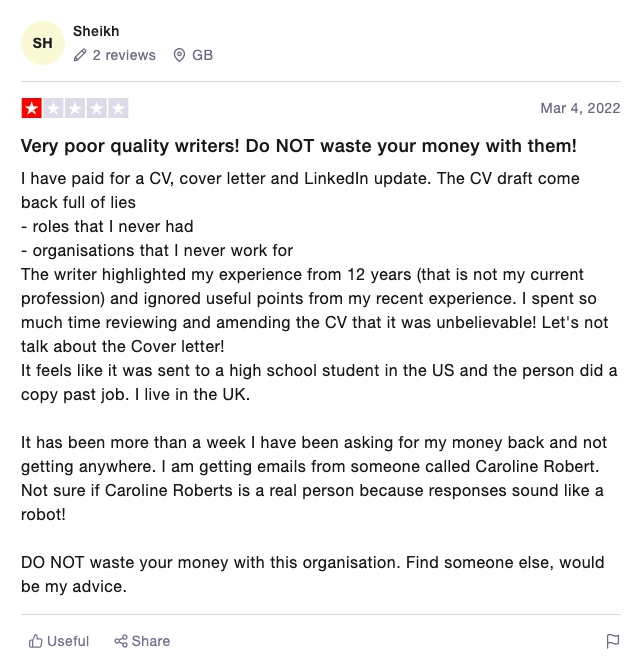 Judging from this author's profile, you can tell that he is a real person who leaves reviews on Trustpilot from time to time, unlike other 5-star profiles that have only one comment attached to their profile.
The text of this review is explicit and detailed, and you can see that the author's complaint stems from personal experience. One action that caught my attention was the fact that the company didn't leave a response to the complaint. Showing concern for a fault from your company is an indication of accountability, and it tells a lot about your reputation as a company. However, cvknowhow paid no heed to the complaint and dismissed it with silence.
Key Takeaways
The bottom line is that I don't find the quality of this service to be sufficient. The CV I received was poor and it certainly didn't fulfill my expectations, especially after a pretty decent communication with a few members of the CV Know How Team.
The first remark is that my resume doesn't look natural and unique. On the contrary, it seems as if the agency only made small corrections on someone else's resume. Besides that, the price is definitely off the charts compared to the writing quality. All in all, I highly doubt that CV Know How employs professional authors with years of experience in content writing.
Apart from that, the agency only provides users with three service options. This is not enough for most customers, so they should definitely increase the number of options if they want to catch up with the competitors.
Users CV KnowHow Reviews
I paid for the full package. Linkedin, cover letter, CV upgrade the whole lot. Cost me around 250 pounds. Every email I would send would be responded back 2 or even sometimes 3 days later. I paid for a 48 hour turnaround which i didnt get. I also asked for a refund they said we cant do that and will match you with a different writer. The CV was very simple CV for my little brother whos a graduate. I understand i should have done it. This is a hard lesson learned. The CV we got back was poor at best. Do not us this company. I would advise you to do it up on your own and have other proof read it.
Mohamed
April 6, 2021
Awful experience with this company. Their customer service is horrendous and in terms of communicating with you, don't expect anything. It's taken me countless reminder emails to get anywhere, not at least a response. Also, their refund policy is outrageous. I was told I would get a refund ( I have not used the service due to Covid and personal matters), two months later, still no refund. After chasing (countless times again) from the company I've been told that I cannot have a refund, despite telling me it was being processed in November!
Alex Lowin
January 22, 2021