I'm going to start this TopCV review with the obvious: this website looks nice! It has that professional appeal that makes you think: "This is the kind of CV writing service that I want to hire." The visuals are great. They captured my entire attention. It took me a minute before I realized: the content at this website is not that great. They don't offer enough services and they don't clarify exactly what the customer should expect.
Since this Top CV  review was heavily requested by my readers, I decided to give the service a try. Read on to find out what results I got and whether they are one of the best cv writing service UK?
Offered Services
This company only offers CV services. They require you to upload your CV, and they will assign a writer to improve it. A cover letter is only available in a package with a Career Evolution and Executive Priority CV. They can give you a free CV critique. I used that service. I requested a critique on my CV, and they gave me solid points on what improvements it could use. After that, I ordered a CV to see if the writer could make those improvements.
I would prefer a service that delivers different types of packages, and a few additional services. Job applicants nowadays need more than a CV. Most would also need a LinkedIn profile, cover letter, thank-you and follow-up letters, and some interview guidance. I strongly encourage Top CV to add more services to its list. With so many writers in its team, it certainly has the capacity to do so.
Prices, Discounts and Special Features
The prices are reasonable, but it's not the most affordable service out there. If you want a Professional Growth CV, you'll pay £99. The company allows you to pay in three installments, but keep in mind that you're paying a more expensive price that way. Since you're paying this money within a few days, installments are not that convenient.
A Career Evolution CV (the package includes a cover letter) costs £129, and Executive Priority package costs £219.
There aren't any special features or discounts. The website has a nice blog with basic tips for job applicants. That's something I always appreciate. However, they don't provide samples, so you can't know what to expect from the writers.
There isn't any mention of discount codes, but there's a chance you could get one. This is because there's a box for the discount code on the checkout page. We're not sure how and when these discount codes are given, but it's nice to see that there's a possibility for one.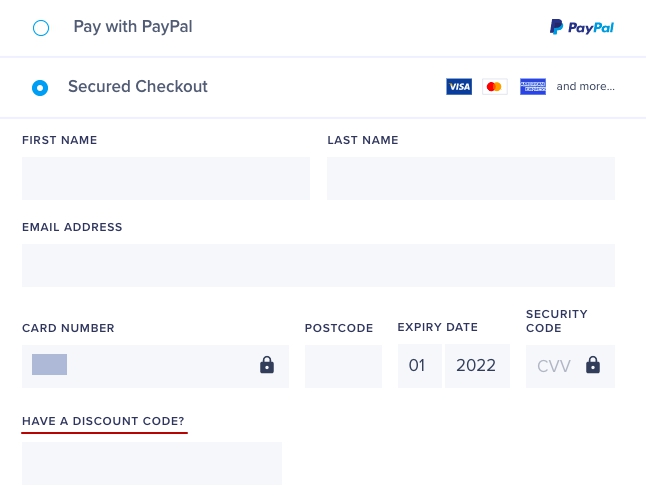 There are more than 2 payment methods that you can use to pay for your services. I like that they have the Paypal and the Visa methods. They are the two primary payment methods for most people.
Writer Certifications and Service Guarantees
TopCV claims to have 1200+ writers in its team. They cover over 65 industries. This service aims towards relevance. This means that if you want a CV for the aviation industry, they will assign a writer who's an expert in that niche. That's a big promise, but the online reputation of this company shows that the writers truly deliver expert-level content most of the time.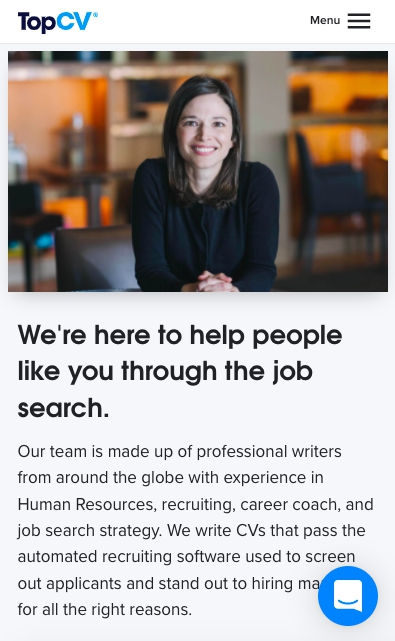 As for the policies, there's a 60-day interview guarantee. If you don't get an interview within 60 days of receiving the CV, they will write it again for free. However, this policy is valid only for the more expensive packages. If you just need an entry-level CV, you don't get an interview guarantee.
Quality of the Ordered Product
I got a decent CV from TopCV.co.uk. It wasn't the best CV I've received for this price range, but it was good enough to send as part of a job application. The writer followed all instructions. She was available during the process. She even contacted me herself to verify some info.
It was a basic CV that still managed to get your attention. The writer was successful at highlighting priorities and writing with a readable ton.
Apart from my experience with the website and the writer, I wanted to find out other customers' experiences with the service. The testimonials on the website (given from the company's perspective with only a snippet of what the customer said) look great, and from those, you can tell that the company has had a lot of impact on their customers' careers. There are examples of how the company transformed their CVs to reflect what was needed. This is a good touch, and it helps to make a quick choice whether to trust the service.
Trustpilot


Apart from the testimonials, there are badges from trusted review sites like Sitejabber and Trustpilot. The website has a rating of 4.0/5 on Trustpilot from over 7625 reviews. That's nice, I thought, until I visited Trustpilot to look at the individual TopCV reviews.
First, there are only about 7,625 total reviews done for the website. There is a decent percentage of positive reviews (67%) and a pretty huge percentage of bad reviews as well (17%). I had to look at some individual reviews to see what they looked like. Despite all the nice words used in the company's website, "fantastic," "first-class," and so on, the reviews on Trustpilot say something different.
When reading reviews, you can easily tell what real reviews are and what paid-for reviews are. The bad reviews are very detailed and are written by people who have a history on Trustpilot. I couldn't help but trust what they had to say about their experiences. You can have a look yourself at the screenshots here: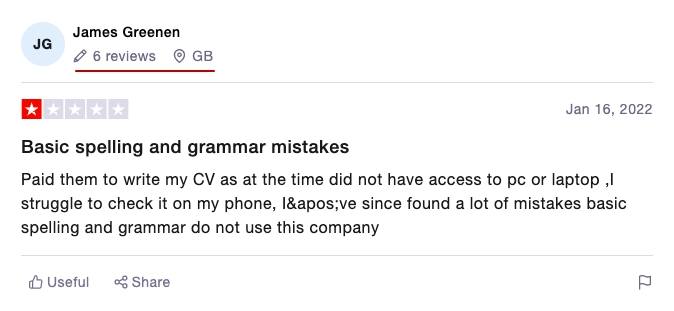 and here: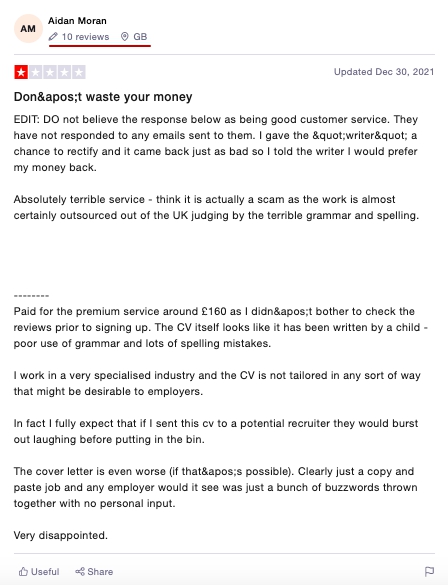 Meeting of Deadlines
You don't get an option to choose a deadline at this website. Throughout the content, you read that "the process typically takes one to two weeks." Let's get something straight: two weeks is too long for a simple CV. It's exactly how long my writer took to write it. I contacted her to ask when the content would be ready, and she said "soon." After a week, I asked again, and my writer said she was still working on it.
My writer was very kind and helpful. It's the company's policies I have a problem with. With over 1200 writers in its team, they can surely be faster and more effective. I got the impression that my writer was working on multiple orders, so she had to delay mine.
Top CV Review – Key Takeaways
When I set out to write a topcv free review, I had a few things that I wanted to know. I may have had a nice experience with my writer and decided to give this website a decent review. However, I'm starting to have a change of mind. I may be an isolated case of a "somewhat" good service. There are negative TopCV.co.uk reviews flooding third-party sites and this page as well. For example, this review of a customer who feels their CV was written by a machine and not a real person.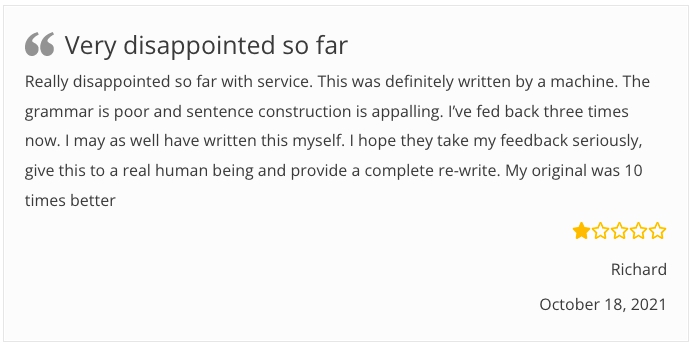 Other factors that could lead to a low rating of this website include the fact that it's impossible to get refunds. You have to keep sending them your feedback and hope for a better draft. In the end, when you don't get what you paid for, you are forced to let it go and leave a bad review. There's also no quick customer support to take care of customers' concerns. Some customers have also complained of poor grammar used to write their CVs.
The key takeaway here is that as much as TopCV.co.Uk may look like a good professional CV service, there's more to this than meets the eye. Third-party reviews from real customers don't give this site a good "CV" to say the least. There may be isolated cases of good work done by some writers, but a good chunk of them cannot write a high-quality CV.
Users Top CV Reviews
What a waste of money and time
second time the worst experience I've had with TopCV ! the CV writer had no idea of my industry, couldn't understand basic information I explained him, the wording was so poor and he never listened to what I was asking, basic layout, wording, and skills, the CV I have uploaded when I filled in the form was 10x more professional then what I've received at the end.
DISAPPOINTED !!!
Gabriel B
October 4, 2022
Do not trust these!
They get 1 star as I cannot give zero!
These gave a 'free' cv check when I signed with an agency. What they didn't know is my CV was professionally written by one of the top CV writing companies in the UK.
They picked holes in order to get work by re-writing my CV.
There was nothing wrong with the CV and it has gotten me several interviews and I am at present deciding between job offers!
I do not like companies that try to find fault where there is none to gain work fraudulently!
Peter Penhallurick
July 27, 2022
Extremely disappointed
If I only knew from the beginning how much hassle it is, and that it would not help at all I would never decide again to "update " my CV .
I'm very disappointed. I paid so much money for no reason.
Loredana Lung
July 17, 2022
It is a fraud, a scam. Never seen something as bad as this
The person who wrote my CV just took a generic template from google and adapted with the sentences I have provided to him in the questionnaire (even if the sentences were just examples to be improved by the suppossed "premium writer"). I was expecting him to properly write them and to provide some sense out of it, not just to copy-paste all sentences one after another. I can do that myself.
I paid 350 euros for a service that does not deliver anything closer to what it says it does. I'm speechless. Especially with the linkedin part. That was a total DISASTER. It was literally a copy paste from the CV!! Making no sense, looking so poor. The service is sold as "reqriting your profil" He did not even looked at my profile! He just took sentences from the CV and added some useless connectors in between. This is a joke.
I demanded a reimbursement of at least that part which was 160€ because of course I can copy paste my CV without spending that much money. No answer from customer service.
I have hired another company and they are surprised by the poor job done. I am quite speechless.
Customer
June 9, 2022
I'm very dissatisfied and disappointed
I'm very dissatisfied and disappointed with their service. Firstly brainwashing to find something bad in your cv to convince you to buy their "professional one" next. Effect: with your unprofessional CV or LinkedIn profile you receive 10 job offerts and with their CV, amazing and written by highly skilled professionals, you receive 1. Refund is not possible as you've already accepted CV and then they will spam you for a year with questions what their CV changed in your life… when you have been back to your old unprofessionally written CV few months ago.
Adrianna
November 9, 2021
Very disappointed so far
Really disappointed so far with service. This was definitely written by a machine. The grammar is poor and sentence construction is appalling. I've fed back three times now. I may as well have written this myself. I hope they take my feedback seriously, give this to a real human being and provide a complete re-write. My original was 10 times better
Richard
October 18, 2021
Really bad
This is surely a joke company! Wish I had checked reviews. Replies from my "writer" seemed as though I was talking to a robot. On my second draft, my writer had just sent me my first draft back again, without any changes! I explained again, very clearly what I wanted, and again very little was changed. I literally had to prompt every time and kept telling him the information he wanted, but very little was modified. You then only have 7 days to change things, so it depends on how long your writer takes to get back to you to how much you get out of it. I ran out of days and am very unhappy with the service.
Peaches
September 13, 2021
Extremely disappointed!
Utterly disappointed. Since I have spent my whole professional life writing as part of my job, it was galling to receive a draft CV far worse written that anything I might do myself – and clearly (with no racial slur intended), written by someone without a good native command of English.
I additionally accepted the invitation to spend a further £50, on top of my original £79, for their Professional LinkedIn Service, which again was frightful. Had I been a potential employer, I would have rejected such a candidate unseen.
I have complained to the company, and asked to cancel their involvement forthwith. A total refund would be nice, but based on these testimonials do not expect one.
My message to all potential customers of Top CV: AVOID!
Paul Clarke
September 13, 2021
Waste of money
It was waste of money. The CV they wrote is so much worse than the one I had. They only change the template and delete the useful stuff on your CV and exaggerate everything without any knowledge about your sector or position. With the CV they wrote I don't get any reply to my job applications so I have asked them to write another one. I send 3 emails in 3 weeks and they don't reply any of them! This is a scam company. They are very unprofessional. I don't suggest anyone to use them
Gonca Gucluturk
June 24, 2021
Terrible First Draft which probably represents the ongoing future interaction with this company
I have just finished university currently expecting my results and as a result I realise I can no longer stay at home I need to be applying for graduate schemes meaning I need a better CV.
I sent my CV to get reviewed by TopCV and they gave me generic feedback but for some reason I was still naive and convinced maybe their advertised "top cv writers in all major industries" can tweak it so I can eventually use it to apply for jobs.
I just received my first draft LOL my oh my. Now I realise tough times are ahead for me with my ongoing interactions with TOP CV's and the fact I'm down £130.
Issues were – they cut my cv in half, dismissed allot of my educational achievements, Improper jargon all over my CV they are Bombastic" They also lied about some of my working history, there was no indication to lie but their did nonetheless.
So I finally start to do some deeper research into TopCV's working practices and see this review forum and realise all these 1* reviews are reminisent of my experience so far.
I finally call TopCV up demanding a refund or I will charge back and they say during this sensitive time I can't receive anything. I tell them I no longer want to do business with TopCV irrespective of this sensitive timing but it was as if the administrator on the phone was just repeating a script.
I don't want to continue thier services though I'm eligible for 2 more revisions so I'm just compelling all this evidence and will be emailing them for written evidence highlighting the sub-standard and my dissatisfaction which Barclays will need when I initiate my Chargeback.
In my opinion you're better off trying to find a CV writer on freelance services such as Fiverr which is cheaper and more transparent. I reckon TopCV's business model is to do this all along and just hope customers don't ask for refunds or just cheat them out of it.
T
June 10, 2021
This is the worst document
This is the worst document writing service I have ever seen. Pathetic work no innovative suggestions, not even correct English even spell check not done. I had to work on the CV from day one as I got no help from customer service they just took the payment with no action.
I would suggest to STAY AWAY and update your CV by yourself.
Nitin
June 6, 2021
A complete scam
This site is absolutely awful. They use a template and writers are not even native English speakers – my CV was absolutely riddled with spelling and grammar mistakes, and the structure was so confusing that even I had trouble understanding it. Naturally, I didn't land any interviews with it, and employers found it nearly impossible to understand my work history. Support refused to help me, saying I would be entitled to a rewrite after a certain time (why would I want a rewrite when I spent hours and hours fixing their botched job in the first place?) and I was forced to contact my card issuer for a chargeback as they refused to refund. Don't be a fool like me – avoid at all costs.
I wasted months getting nowhere with their CV. As soon as I rewrote the CV myself, I started getting interviews and before long had several job offers to choose from – just months later than I would have liked!
Just look at the spread of the reviews on this TrustPilot. All the 5 star reviews are invited, and written in the same kind of broken English as their CVs. Suspicious? You tell me.
Thomas Dawe
May 13, 2021
Incompetent, Unprofessional, and Dishonest
Incompetent, Unprofessional, and Dishonest
This excerpt speaks volumes about the incompetent, illegal, and reckless operations run by TopCV. (Below excerpt is from an email exchange after almost a month of trying to terminate a failed contract. TopCV avoided my complaints and resisted a full refund until a lawyer and my credit card company were brought in)
TopCV violated the contract agreement by selling a service of an Executive Writer with standing in the top 10 percent of your writers that also is specialized in my industry experience. I have asked repeatedly and received no answer how someone with only intern experience in a police station in South Africa and one year of CV review qualifies as an Executive Writer and an industry expert. A full refund is warranted on these grounds alone but I will continue if you need a further summary of the laundry list of TopCV failures. I paid for expedited delivery and received an unusable product. This "Expert Writer" delivered a CV containing several spelling errors that even Microsoft Word caught. Though for some reason you confused my legitimate complaints about these atrocious spelling errors with grammar. Basic attention to detail would have also caught the several incorrect transcriptions from my initial CV provided. If this is not enough, the "Expert Writer" requested that I add biometric information such as gender, age, civil status, nationality, and place of birth. It is illegal at the U.S. Federal level to make hiring decisions on such material. These are only a few of the many failures that I have repeatedly laid out to TopCV since I raised these issues on 26 February 2021.
Bjorn Beam
March 22, 2021
GARBAGE
Complete garbage. Doesnt know the field of real estate therefore couldnt even complete my CV. There was gramitical errors and I dont think my CV writer could speak english. He wrote I was well versed in construction. How can you be well versed in construction, construction is not song writing. These people are a scam.
Laya Mathew
March 16, 2021
Avoid at all costs!!!!
Rubbish. Total waste of money!!!
Nico Riley
February 1, 2021
Waste of time and money. Avoid
Took the plunge and spend £129 on CV & Cover Letter service.
As soon as I received the first draft I knew I'd made a mistake getting involved with this mob.
CV was incredibly poor.
– Full of meaningless jargon
– Had multiple references to things I have never done, never told TopCV I have done or have ever claimed to have done. For some reason they kept referring to me managing 'customer relationships' – something I have never done.
– Poor layout and formatting. I thought this is where they might provide some value but their templates are probably worse than what are freely available online.
– Bizarrely they created an entire CV section that they entitled 'Community Service' and put an academic course that I'd done there. Have tried to explain several times that Community Service are hours of unpaid work you are given when convicted of a crime but this hasn't seemed to register with anyone I have spoken to there.
– They seem happy to create this section but couldn't see the logic in including my advanced level language skills when I am applying to be…. a language teacher.
– Also decide to leave out other interesting facets of what I sent them. Seems like they didn't even bother to read all of what what I had sent to them.
Of course any normal company providing such an obviously appalling service would offer at least a partial refund. Taking and keeping your cash seems to be the modus operandi here as they hide behind jargon such as "we offer digital services that are intangible and irrevocable".
An embarrassing and atrocious experience. I've lost my money and my time to this lot. Be warned.
B
January 27, 2021
Very unprofessional
I wish I could give them less than 1 star. What a complete joke of a company. I decided I'd look into them for a cv update but every correspondence I've had I have been called Laurel! Laurels a nice name but its not mine. "Rebecca" tried telling me its because of the way their computer system reads my cv. What a load of Tosh!! After a few emails back and forth about my name being Amie and not Laurel I had an email this morning "Hi Laurel"!!! How can this company claim to be able to rewrite peoples cv's when they can't even get someone's name right??? This company needs to pack up shop and fast.
Amie Richardson
January 21, 2021
Rubbish & Unprofessional!
Their services are not only over priced but they are absolutely useless. No amount of money should be given for such a bad service. I had my CV done as well as a friends as a gift – Mine came out "Ok" but started noticing sentence structure incorrect as well as punctuation. My friends was an absolute disaster and I was ashamed I had even given it to them as a gift. The response I got was even worse when they could not get the CV and industry right I asked for a refund and they replied with trying to up-sell on something else?! STAY AWAY!!!
Deen Hopcroft
January 20, 2021
Avoid TopCV
TopCV fails to deliver on what their very name implies – a TopCV. The first edit that came back to me have a bunch of red flags, there was a multitude of spelling and grammatical errors along with a lot of duplication. It was also clear they knew nothing about my industry (tech) despite stating they had top writers that knww the market inside out.
I challenged TopCV on this and asked for a refund which they flat out refused, despite delivering a completely unusable. Avoid them.
Samuel John
January 8, 2021
A detailed account of customer service and received products. Spoiler: Stay away.
If you're like me, your process will likely start by making use of their free CV review. This review has a lot of good feedback, so you'll feel confident about proceeding to purchase.
When you do, you will be greeted by a small questionnaire to help your writer get a better insight into your goals and aspirations. A few days later, you'll receive the first draft of your documents. You'll excitedly open them, and the excitement will turn to ashes in your mouth. The documents you received are full of lies (claiming you worked on things you never worked on), your bullet-points have been turned into paragraphs without changing grammar, and the documents contain multiple large grammatical errors like "minimized […] by more than 50%", "understand how it serve videos" or "resolved ideas to team members". It will also quickly become apparent that your writer has no knowledge of your industry, using keywords in contexts where they don't belong of mis-spelling commonly used words, such as changing "code" for a programmer to "codes".
Taken aback, you'll start spending time crafting your feedback, asking detailed questions on why the writer made certain choices and correcting linguistic errors and liesWhat you get back is a convoluted way of saying: Don't worry about language, it's fine. And the lies "have been set accordingly to your targeted position that would lead towards your targeted role." Didn't understand that sentence on the first read-through? Me neither.
You'll start to lose confidence in the product and proceed to contact customer support with your concerns, and desire to request a refund to which you are legally entitled. Their response is to send you to 2 other writers before being willing to process any kind of refund, one of which sends you a document where even the bullet-points are misaligned, and another completely ignores all instructions and feedback you give them.
Eventually, you keep nagging them with more than 20 emails in a month's time, and they concede to give you a 50% refund, citing that their terms of service state no refunds will be allowed. (Last I checked law always supersedes terms of service, but they refuse to budge, abusing the fact that legal fees would be more expensive than the refund.)
The customer service of this company is extremely bad, and if you're unlucky like me, the documents you get out will be worse than the CV you started with.
Please be careful with this company and read the negative reviews. You will see that most of them complain about the exact same thing.
You couldn't pay me to have to deal with this company again.
Mitchell
December 18, 2020
Do not use them
This company does not have industry expertise and produce CVs and cover letters that are unusable and so generic. Do not waste your money and learn from my mistake.
B
December 10, 2020
Garbage, avoid
They took my original CV and clamped it together with some random sentences. Steaming garbage full of grammatical errors and senseless, soulless, and unconvincing watered-down paragraphs. I prefer my original CV. AVOID THIS SCAM!
Christ
December 10, 2020
Absolute Rubbish
I used this service as I required a rewrite after 10 yrs of not using a CV.
What came back was appalling, unformatted, outdated rubbish!
Customer service is even worse, told me it was a service and as such could not give me a refund as they had delivered the service!!!
Crooks! Avoid !!!
Clive Richardson
November 16, 2020
Worst service in the world
It was a copy and paste service.
I prefer my previous CV made by myself. Don't waste your money
Rubbish service
November 11, 2020
Waste of Money
If I could give reverse stars I would… I'll copy my email to the company below as I've just written to them. I knew that the whole submit your CV for review will always come back with your CV is crap, you need to re-do it but I wanted to get mine re-done as I'm changing industries and couldn't be bothered updating and reformatting it. I didn't realise that you don't speak to your 'writer', you have to fill out a form so they just merge your CV with what you put in the form. The first copy I received back mentioned about being competent in all things Epidemiology… at no point do I mention I'm an Epidemiologist as I'm not. They said I developed a program which I didn't, I worked for the company that developed the program. I could go on.
My email to them…
Hi there,
I'm not sure how I can speak to someone who manages the work at Top CV but I would like to speak with someone in charge. I'm not happy with the progress of the CV re-write so far.
As you can see by the first pass of feedback I have given, it took me hours to do. I expected to be blown away with an amazing, succinct, incredible CV which I was not. The writer said I was well versed in Epidemiology… at no point have I mentioned I'm an Epidemiologist as I'm not. Feedback was not listened to properly either… I have no idea why my 'current' role is written like I no longer work there… I did mention that in feedback. I also said that the Super Able Mind position is a separate position outside of my own business and that I never developed any programs, I worked for the company… and what is written for what I did there doesn't make any sense.
My current role starts with 'communicated with people'… that just sounds dull and not compelling at all.
I'd either like a proper professional CV that's done better than I could do it, seeing as though I'm paying professionals and you told me how 'bad' my original CV was, or my money back.
I don't have the energy to go through the next round of the CV today, but on skimming over it, it's not great. I also expected to have a phone conversation with the person writing my CV, not a form online and emails back and forward.
Thanks
Kate
Kate
November 10, 2020
Do. Not. Use.
Stay away. Scam. It will be a waste of money. They simply take your CV and lump it together. Make spelling mistakes and grammatical errors everywhere.
Toopie
November 2, 2020
Utter SH**TE
Oh god, what utter shite. I am fuming. What a revolting company. Do NOT use. Very poor writing. Very poor experience. I don't even think the "writer" read my CV? Replete with errors. I should have known better! Absolutely revolting company. I hope they burn in a covid-19 inferno.
Penny
October 29, 2020
Preying on the vulnerable for commercial gain
If you have recently lost your job due to COVID and are finding it hard to secure interviews, you might be tempted to submit your CV for a free review by TopCV/Top Resume, but be warned as this is a thinly veiled sales tactic.
You will receive damning feedback (I've discovered most of the 'facts' they state are fabricated – and they simply don't care about the recipients state of mind) so you feel compelled to have them write you a new CV.
As part of an ongoing investigation, my team purchased a number of their top packages and requested the 48 hour rush service on each occasion. Each notification informed us we would be 'matched' with their best writer who would 'work with me'.
Be aware that their writers are American, use American English when writing, don't have knowledge of your profession (one writer even admitted to using Wikipedia to learn about the industry), don't understand LinkedIn algorithms, and can't spell or grammar check.
When run through a recruitment ATS (applicant tracking system), the original CV review submitted to them showed the person had 16 years senior leadership experience, one of the rewritten CVs (which cost £270) showed they had only 3 years experience at junior level.
One writer said they thought it best not show the person had built two £multi-million start ups as it might put recruiters off.
Every attempt to receive new drafts from each writer has failed.
The next step of this investigation will be to find evidence their writers are producing fake 5-star reviews as part of their workload because I have yet to speak to anyone who has received anything from them that is of any value whatsoever.
This full story, complete with evidence, will be published by a leading business publication in November. With luck that might save a few vulnerable people from parting with their cash. They should be ashamed of themselves.
SR
October 27, 2020
Generic Rubbish
The free cv review is to entice you to pay for one of their cv writing packages.
In my case their free cv review said I used "managed" and "prepared" too many times. So I checked how many times. I used "managed" only once and "prepared" wasnt used at all in my cv.
They provided generic feedback about formatting and generic summary from their software.
I corrected the minor formatting inconsistency and replaced "managed" with a more active word. So what little came back from their free cv review has been dealt with myself without paying top cv
Alec
October 25, 2020
Poor CV Writing company
Poor quality of return. Poor liaison with client. Paid for the mid level service and in my opinion was not worth the money. Standard online layout, very bad formatting, spelling mistakes etc etc. Really wanted to ask for my money back.
Matthew Wood
October 21, 2020
Very Disapointing
Same here,they sent me a horrible first draft.
Ten they promised me a new writer.
After 3 claims they just stoped writing back.
Bad bad experience so far.
Enrique Martinez
October 19, 2020
Instantly suspicious
After just getting the free appraisal of my CV and wondering if they always just send a generic response basically saying your CV is rubbish, I decided to do some research. After reading these reviews I'm glad I didn't pay them anything! I'd be wary of what they tell you, I'm told my CV is good.
Gemma Bramley
September 30, 2020
DO NOT PURCHASE ANY PACKAGE FROM THIS COMPANY
It's just really sad, that they don't care about their reputation, they exsist to steal. This company will defraud and deceive customers. In my case, I paid £99, which was the cheapest package. I sent my CV over for them to have a read & review (as requested), only for the writer to accuse me of not sending full information such as my D.O.B, education and career history. All information was apparent on my CV, but my writer did not care enough to read my CV at all, they did not even have the decency or patience to go through it thoroughly, which was the 1st red flag. I actually thought I was corresponding with a robot at one point, it was that bad. The 1st draft was very poor & when I had confronted them about it, they did NOTHING. In fact, that's where it all ended, they stopped emailing back and forth with me & they would disconnect the phone calls when i rang. They stole from me; they didn't complete my CV, actually they did not even start it, they stopped all forms of communication. They do not offer a professional service and they are not responsible at all, There is no pride in customer service or loyalty with TOPCV, they are thieves.
Moni
September 21, 2020
FRAUD.. Do not waste your money
This company has in effect stolen my money. I paid £165 for a CV and a covering letter and sent my original CV as a starting point.
I could not believe what they sent back, it was full of spelling mistakes and grammatical errors and was so bad I believe a non English speaker had tried to construct it. After a lengthy complaint process they offered me a 30% refund….when I refused they stopped all contact.
This company in my opinion is set up by fraudsters and will just take your money with nothing in return. I am currently trying to get my hard earned money back through the financial ombudsman. I would suggest that you go elsewhere if you want to get a quality CV.
Andrew Gill
September 21, 2020
Total Scam
I had the worst service ever i could get. After i paid for the CV writing i got a message saying that they will get in touch with me and i should get first draft in one week.
No one contacted me other than the forms i filled initially and i get first draft which was totally generic and was obvious the writer didn't understate the nature of the job and its deliverable and achievements. I marked up the draft sent it to them but no response for days.
I threatened them for cancellation and refund then they started talking to me. They promised a new writer and a better service. total lie. Now its been more than an additional week and now one even contacted me.
Low quality write up and not reliable at all. My fees are still in limbo.
Tariq Alwahedi
September 16, 2020
If there was zero star, I would have given zero star.
Terrible…Terrible…please, stay away. I paid for executive CV writing and Linkedin. The CV was not only mediocre. I wish I had read the previous ratings. It was terrible!!! The language was poor. I am unsure perhaps, they got non-english speakers to write it. They promised to rewrite the CV but never got back. Its been over 21days and my money was not refunded. This is a terrible one. Please, stay away
Sonia
September 9, 2020
AUGUST 19, 2020 AT 10:21
I really wish i had read these reviews before i proceeded with this company!
They have sent one draft, it was horrendous and literally cut my current CV in half. I have provided feedback and yet to hear back, and this has happened 3 times. The expiry revision date has now passed and i am so disappointed and upset with the money time spent.
Still not answered my questions about when they are doing my LinkedIn profile.
Can I just not pay the next two instalments?
Abysmal service, avoid at all costs!
JULIA EVANS
August 19, 2020
AUGUST 4Also caught by the
Also caught by the scam of a service. All the above comments are reflective of my experience. One draft of a poorly written CV laced with spelling and grammatical errors and despite plenty of feedback from me and assurances from "Katie" no second draft as time ran out. This service was advertised on LinkedIn- do not get caught like I did as you're wasting your money
AIDAN
August 4, 2020
JULY 31, 2020 AT 8:43
Hi all,
Thanks for taking the time to leave your reviews and confirm my suspicions.
Although the headline TrustPilot score is good, an examination of the reviews themselves show a pattern: the good ones are 'invited', and short and generic ("They're amazing!!!") whereas the more critical reviews are lengthy and detailed. That discrepancy always rings alarm bells for me, and a quick search brought me to your review. Thank you for saving me £130, I owe you a metaphorical pint!
DANIEL BYRNE
July 31, 2020
DO NOT USE THIS
DO NOT USE THIS COMPANY!!!
I have had to correct typos. They do not listen to your feedback and make you sound generic. To top it off they left huge gaps in my CV which made it look like I was doing nothing when I actually had a job. This did not go down with well with recruiters.
Sara
July 24, 2020
This is an automated
This is an automated money making machine. I paid 216 GBP for an Executive CV rewrite just to receive a mediocre document that I found so much below any reasonable standards (full of bombastic words and so disconnected from my career aspirations and intentions) that I decided it's not even worth the time to attempt any revision to it.
On short, I got a significant better experience from a 40 GBP service. Do not waste your money.
MAXIMILIAN
July 23, 2020
Oh god I wish I found this before committing to top CV. Is a scam . I paid £129 and was a terrible service a big mistake from my side and they don't offer refunds
Be aware of this company
Max
July 15, 2020
I was about to order the £129 package, having received what looked like quality feedback from 'Katie'. Thank you for posting the comments. I will be avoiding this company.
JACK DEE
July 14, 2020
Awful experience. I opted for the expensive package. As the initial critique was my CV. Did not reflect all my years of experience. The CV ended up reading as if it was for a junior role.
Command of the English language was not at all sophisticated as might expect of a professional writer. Then discovered this company operates out of South Africa.
All the writer did was cut my CV in half. Provide an old fashioned cover letter, which came over as grovelling. They were supposed to rewrite the linked in profile. But, had to tell them not to proceed. As they took the money up-front it's unlike they will refund anything.
FW.
July 7, 2020
Top CV is a fraudulent company. They have NOT delivered the goods nor have they given me my money back as requested.
GARY HOPE
July 2, 2020
Same as everyone else….it's
Same as everyone else….it's a scam site….was given a writer from another country that didn't understand my industry or CV….Ended up with a awful first draft that made no sense… Full of buzz words and lies … Sent a message twice to the writer but got not response . Customer service always seems to be someone called Katie who sends a copy paste reply to any complaints….no draft 2 or 3 . They just leave the time to run out then ignore you…have taken this up with trading standards….I would hope others do too
DANIEL FRIDAY
June 23, 2020
This is a scam
This is a scam guys.very bad service and poor communication with this company.
£99 just gone down drain at a time when it is hard to save.
People @ TopCV how do you sleep?
Let me guess cushion stuffed with cash you heartless ******** ********
STEVEN KHAIM
June 9, 2020
Must be a scam. After paying GBP 99 I was sent a link to fill an online form and forward my existing CV. They then assigned me a writer (Robert S) who sent a document that made little sense and was a mishmash between the form filled and my existing CV and a bunch of keyword thrown for no good reason. You are then supposedly given 7 days to provide your feedback and get up to two revised documents. Guess who long it took Robert to make that first revision? Exactly, 7 days and me chasing him every day for a week. Now I get no second revision and TopCV support will not reply to my emails. Again, a scam as you cannot talk to anybody and they won't refund your money even if they clearly did not provided the advertised services.
Yona
May 20, 2020
Probably a scam or machines (not humans) are behind this service. Terrible experience so far.
DT
May 4, 2020
Fraud and money hoarding.
Poorly qualified writers combined with pathetic customer service.
Kris
April 10, 2020
Constantly chasing my cv,No response from emails at most 1 a day,automated emails saying the same thing,top cv Customer sevice terrible ,6 days in and only received 1 draft yet you only have 10 days to get the cv complete with the writer so in my opinion I feel it's the biggest bag of dog shit I've ever spent my money on.Called customer sevices again and was promised I'd have a new draft of my cv,So have I received it ? NO I HAVENT The sagar goes on.So for you out there thinking of using TopCV pile of shite think again
CHRIS
April 7, 2020