Taylor CVs has been a UK market leader in the writing niche since 1998. They once had great writers who are adept at CVs and personal statements. But are they still good after so many years? Can they provide quality CVs?
Offered Services
Taylor CVs has a wide range of services than you can imagine. Let not the company name mislead you. Some of the services I found on the site include cover letters, LinkedIn profile optimization, special CV services, and career coaching. The list of services sounds incredible.
All these services have different prices. For CVs, the site has several packages depending on your financial constraints, including a makeover package, advanced, elite, besides a premium package. Taylor CVs might assist you in getting into the interview phase with their superb services.
The higher the features available in a package, the more the money you will have to pocket out.
However, multiple Taylor cv reviews online proclaim delayed submission and careless handling of CV.  I found out that CVs from this site are handled by incompetent writers who fail to keep their clients' promises.
Let me discuss more on the pricing options in the section below.
Prices, Discounts and Special Features
Taylor CVs has different pricing options depending on the service offered. If you are seeking employment, here are several prices for products on the site.
For CV writing and polishing, I came across these packages' prices inclusive of taxes.
CV Makeover package – comes with a new layout and skill section at £54.99. However, there is no re-writing of the experience section.
Advanced CV package – the product gives you a brand new CV that guarantees you an interview at £119.99. Also, the package has a money-back policy in situations of unsatisfied services.
Premium CV package – the package includes most features present in the advanced plan. It also provides yu with a new cover letter and a more lengthy time for telephone consultations for £169.99.
Elite CV package – this is the top CV writing service that goes for £229.99. It is bundled with a new cover letter, CV, LinkedIn profile, complete ATS optimization, and discount offers for future purchases.




For personal statement services, the prices depend on the word count requirements. With 500-word writing, I had to pay £110. A personal statement exceeding 2000 words will cost you at least £220.
Alongside that, a cover letter alone might cost you £34.99. The laid-out services have prices tagged along on the official site.
Taylor CVs has reduced the cost of personal statements
The price has dropped significantly because you can now purchase over 2,000 words for £220. The same word count used to cost £450. The same goes for 500-word documents. The company used to charge clients £200 for this word count, but now it charges only £110.
It is easy to conclude that this service was not in demand. Otherwise, they wouldn't be minimizing the prices for personal statements while increasing the prices for resumes in recent years.
Quality of Ordered Product
I felt a let-down when I got back my CV with plagiarized content and multiple avoidable grammatical errors. It felt like a copy-paste tactic since I could find a similar CV online. There was false information on the worked-on CV – something different from what I had mentioned during the telephone conversation.
Since I had paid for an expensive professional service, I requested a refund. But guess what, it took ages than I had thought. With the help of several reviews online, I found out that the money-guarantee policy is just a scam. Well, I needed to move on and instead look for employment to meet my needs. The services might not be worthwhile, as they proclaim on the site.
Other people's experience
A friend of mine ordered the elite package to draw more potential employers to his CV. He, however, did not get communication from any employer after the applications. He reached online customer support to discuss the issue. But he did not get any response from the online team even after a year. The company showed no concern. My friend went an extra mile to consult recruitment agencies and found that the CV needed a lot of fixing.
If you choose Taylor CV services, you should undoubtedly prepare for disappointments.
Writer Certifications and Service Guarantees
Taylor CV has several guarantees mentioned on the site, including money refunds, interviews, satisfaction, and data protection promises. The site promises to guarantee the desired content quality within seven days after order. However, this is not the actual case. I requested CV editing after getting my order, but there was no returned communication.
Also, I did not get my money back, yet they stated in the premium package policy. I think you know how it feels when you spend fortunes on service, with nothing good in return. I know it is a hard pill to swallow, but be careful of what is ahead.
Meeting of Deadlines
Did I mention that Taylor CV services failed to submit a near-deadline work even after a 100% guarantee on the time delivery? My cover letter and CV, which came late, had poorly constructed sentences with lots of errors. I reached the support team but, unfortunately, got no response. It seems the writers choose quantity over quality.
What is present on the guarantee section on the site is only a show. If you can, stay away from this site.
Trustpilot | Taylor cvs reviews
Company currently has an impressive list of user reviews on Trustpilot. The agency collected over 1,691 reviews and 96% of those are excellent or great.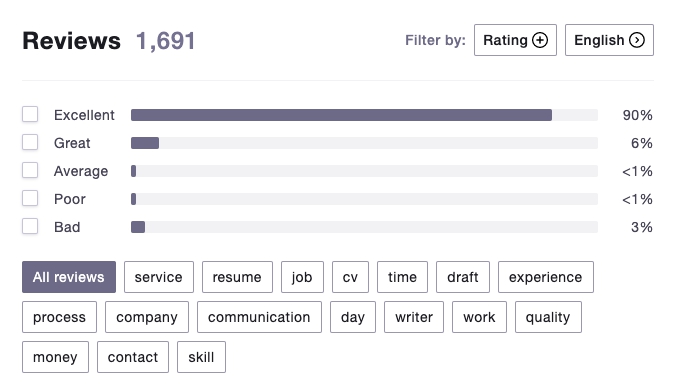 I analyzed these reviews and I was shocked to learn that they look very natural. It almost made me believe that Taylor CVs is a superior content writing company, but it all fell into place after reading bad reviews.
How come?
That's because I realized that Taylor CVs has only 3% of bad reviews and less than 1% of poor and average comments. If you know anything about the mind of a typical customer, you know that people always have remarks, regardless of the product. In such circumstances, it is impossible to think that Taylor CVs really deserved to collect so many excellent user reviews.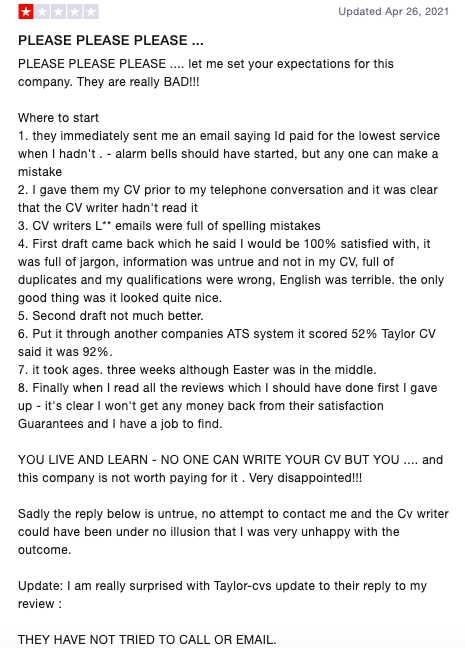 On the other hand, real reviews – bad ones in particular – showcase true emotions and frustrations. Check this one as an example:
Every customer will pinpoint small mistakes or inaccuracies in any given product, including a resume. That's why we can conclude that the company carefully monitors and manages its profile on Trustpilot.
They don't just responds to reviews but also buy positive ratings.
This is exactly why you'll see three brand new user reviews every day or two – they obviously appear according to the plan. In other words, comments are staged and I do not trust them.
Website usability
Taylor cvs reviews are more inclined toward a positive aspect. The company considers the comfort of its clients and, as such, has made provision for a convenient menu and FAQs section. It can be frustrating having to navigate through a complicated page, and taylor cvs has made provisions to combat such. You get to see a list of the basic services they offer, everything is in plain sight, and nothing is hidden. Before using a service, you'll most likely have numerous questions, but with Taylorcvs, there's a section for commonly asked questions, and we can bet you'll find the answers to your query.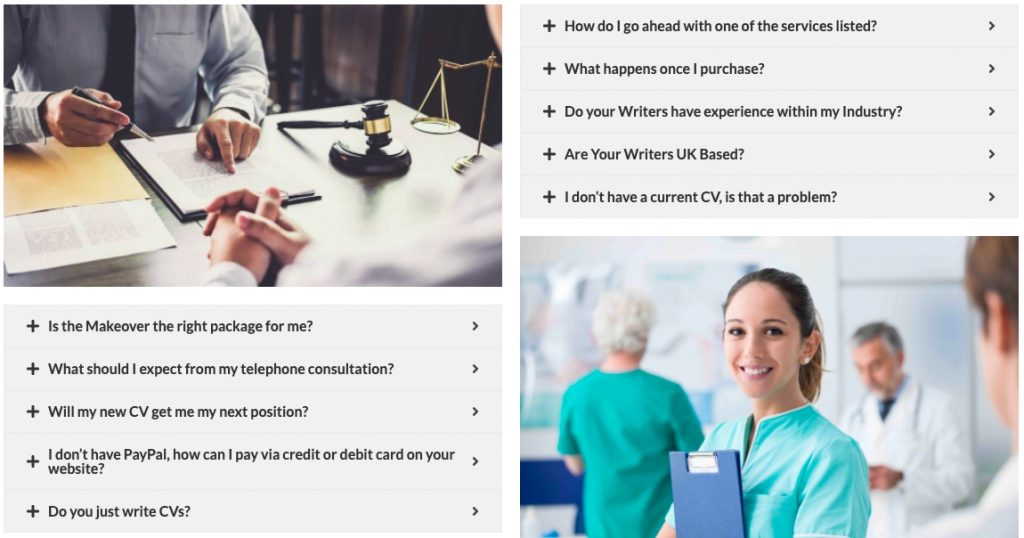 One shortcoming of this company is their lack of zeal concerning social networks. They have little to zero concern about their social presence, which can discourage certain individuals from identifying with the company. We are in a digital age, and everyone wants to get involved with a brand that has a strong social presence, but unfortunately, this brand doesn't have one.
Another major disadvantage of this company is their slow loading time. Not everyone is patient enough to wait for minutes before a single page loads, which can cause potential clients to get frustrated and try out another company.
Key Takeaways
We all know online reviews are not far away from the truth. Taylor CV has been in the industry for a longer time. But their services are not quite appealing, as you can see from most comments online. Their CVs and other forms of writing are not original and come with a bundle of punctuation and word construction errors.
If you are a job seeker, it would be best to format your CV or try a different worthwhile CV writing service provider. As a result, I give Taylor CV a score of 5/10.
Users Taylor CV Reviews