CVWritingSpecialists.co.uk is not a company you hear about often. If you check their testimonial page, you'll find hundreds of reviews that date years back and showcase this as a renowned brand. But, outside the website, the situation is different. There are a limited number of reviews that date back only a few years.
Based on how underdeveloped the website is (its design is seriously flawed), it seems like they've overdone it when creating the testimonials page. This company offers many services but judged by what customers say about them, it's not a highly demanded brand. Keep reading this CVwritingspecialists review to find out more.
Offered Services
The messy website made it hard for us to find information such as a complete service list or even a real pricing page. We gathered some information from all pages that describe services offered, but are still unsure about the full list. Since there is no fixed pricing and you have to contact the support to get any kind of specific information, we could only include what we found. CV Writing Specialists offers the following services:
Professional CV writing
CV editing and updating
LinkedIn profiles
Cover letters
Resumes
Professional bio writing
Personal and supporting statements
Company profiles, executive summaries, and corporate CVs
Business plans, pitches, and forecasts
On the homepage, you will find a short list of what they offer, but this one repeats the same thing several times. For example, they offer professional CV writing, brand new CVs from scratch, and CVs for all levels and any industry. This is pretty much the same thing.
Prices, Discounts and Special Features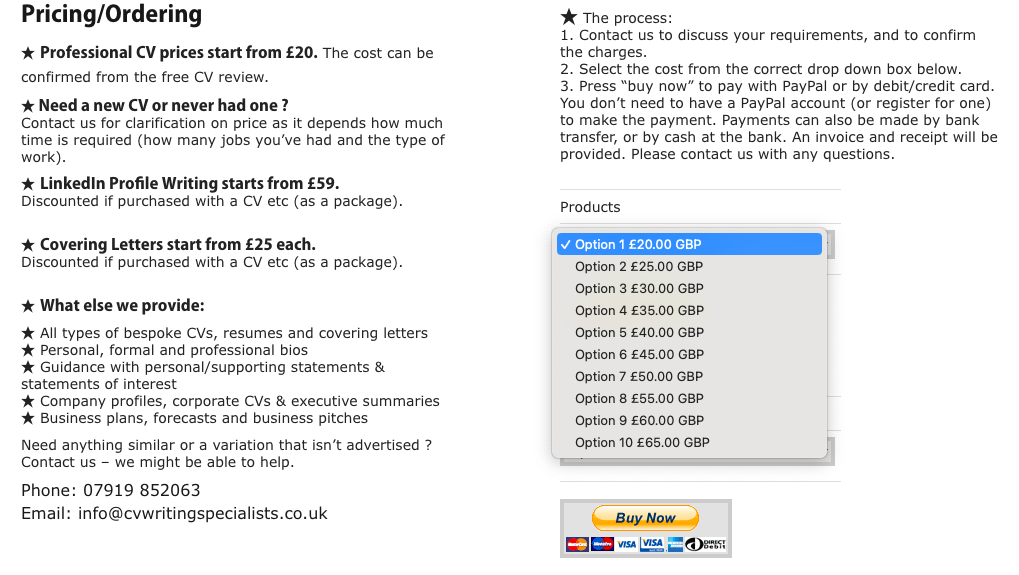 This is where it got trickier. We tried to find a pricing page to include some quote samples in this Cvwritingspecialists.co.uk review. But, the pricing page does not include such a list. They just quote the starting prices. To get the actual price, you need to send them your current CV or instructions via e-mail or the contact form and wait for a quote.
According to this page, professional CVs cost from £20, LinkedIn profiles cost from £59 and cover letters cost from £25. These are discounted if purchased as a package. This is stated on the pricing page, but there is no indication as to what is considered a package and what kinds of discounts they have.
In our case, we had to wait for almost an entire day for a quote, which would turn any customer away. They sent us a quote that was almost triple the amount listed as the minimum. Even though we also got a cover letter, the price was still higher than expected.
There's one special feature on this website – a free CV review. If you have a ready CV, they ask you to send it to them and they'll review it for free. We don't recommend this option seeing how they told us that ours would need improvement so that we would order there. What kind of review is that?
Writer Certifications and Service Guarantees
Everything is vaguely described on the website except for the guarantees. These are nowhere to be found! You'll find some general information about how great the writers are, but no details about their qualifications or certifications. There's no mention of a revision or timely guarantee of any kind. This makes you wonder about the honesty of this brand and the safety of ordering there.
Quality of Ordered Product
We were right to doubt this company. Based on the things we found on the site and the things we didn't (such as guarantees), we were almost certain that things would go wrong on this site.
The CV we received was a worse version than the one we sent to be improved. The cover letter was plagiarized from an online page and looked too much like a template.
Meeting of Deadlines
The CV we ordered came after a week, which is too long for delivery. They don't have any guarantees or mentions of the timeframe, so we couldn't request any kind of a refund based on that. We complained about the lack of quality, but no one ever responded to our queries.
You can use two methods to reach out – a phone number and e-mail. Once we spoke to them about the poor quality of the content, they stopped replying to the e-mail and on the phone, they said that they cannot perform any kind of revisions for free.
Key Takeaways
In many cases, companies look better than they operate. In this case, you get what you see. Cvwritingspecialists.co.uk has a website that is as poorly constructed as their products. This company has no guarantees and is very unprofessional. They charge average prices, provide no discounts, and do not provide any useful information on the website.
Users CVWritingSpecialists Reviews