Have you been struggling to get responses to job applications and can't seem to figure out what's going wrong? Perhaps, all the details in your resume show that you are a reliable, qualified potential employee. But it doesn't seem like anyone is noticing. The reason you are getting turned down could be due to poor CV or resume writing.
If you've been struggling for some time to come up with a good CV or feel that you need to improve on the quality of your resume, it's a great idea to hire professional help. At sendmeyourcv.com, you get access to high-quality CV writers. They also offer cover letter writing services to add more spice to your job application.
The website at sendmeyourcv.com has a simple and plain interface. While the layout of their website is not too appealing, it carefully breaks down the homepage into smaller sections. The information on the service provider's website promises their client professional CV writing services. In this review, we'll get to see how much they keep their word and expose the true quality of their writers.
Offered Services
At sendmeyourcv.com, clients are exposed to various services that will improve their chances at a job application. They include
• CV Writing
• Letter Writing
• LinkedIn Profile
CV Writing
The experts at sendmeyourcv.com are capable of helping you create a fully optimized CV or resume. They are familiar with everything it takes to get your resume noticed by the HR professionals of the firm you're applying to. Their writers can deliver high-quality content quickly, i.e in as little as 3 working days. You can apply for faster CV writing services when you choose the "Fast Track" option.
The writers at sendmeyourcv.com offer quality work at reasonable prices. Their work is free of plagiarism and grammatical errors. It doesn't matter if you want to write a CV from scratch or amend your current resume, there's something for you here.
Letter Writing
A job application is not complete without a good cover letter. A good cover letter will encourage your potential employer to go through your CV and will prepare their mind for what to find there. Hire professional cover letter writing services to strike a good impression on your prospective employers.
Did you know that a good, respectful resignation letter is the best to leave your current job? At sendmeyourcv.com, their services also include resignation letter writing. They can help you take a bow in style and earn a reference for your next employment.
LinkedIn Profile
LinkedIn is considered by many to be the top social media platform for job seekers and employers. Did you know that 70% of employers look up their prospective employees on LinkedIn? That's why you must have an optimized profile.
Sendmeyourcv.com is capable of helping you create a new LinkedIn profile or optimize the one you already have there. They are aware of what employers are searching for and will include them in your profile. They will fill in all your personal information to meet your employer's standards.
Prices, Discounts and Special Features
At sendmeyourcv.com, you get access to quality services at affordable prices. The following are the prices of services offered on sendmeyourcv.com:
• CV/Resume optimization check – £0
• Cover Letter writing – £15
• Resignation Letter writing – £15
• CV review (with a PDF report that tells you what to change) – £18
• Professional CV writing services – £40
• LinkedIn Review – £18
• LinkedIn Profile Writing – £40
• Interview Advice – £50
• Fast Track (1-day deliver) – £15
Writer Certifications and Service Guarantees
Sendmeyourcv.com has a reputation for hiring qualified writers with relevant experience in different disciplines. Their writers have worked on numerous projects during their careers and are familiar with how to handle different types of CVs and resumes.
Considering the quality of writing that is on display on the firm's website and on they have prepared CVs, we can infer that they are only writers with intermediate-level skills. When you decide to hire them, it's best to turn down your expectations and not expect any over-the-top service.
Quality of Ordered Product
The information on the homepage of sendmeyourcv.com states that the organization offers professional writing services. But, there are clear indications that their service does not match up to the standard they promise.
After placing an order for resume and cover letter writing with a 5-day deadline, the CV and cover letter arrived on time. However, there were obvious errors in the work. The quality of the content was watery and not engaging. The writer used completely different formatting from the selected option. Overall, it felt like the work of a writer who had only limited knowledge of the task at hand.
Meeting of Deadlines
Although the quality of the writing at sendmeyourcv.com is below par, they still manage to meet deadlines. They have designed their work process to support fast turnarounds but the quality needs a lot of improvement. The Fast Track option even offers clients the chance to order their CV-related services in as little as a day.
Trustpilot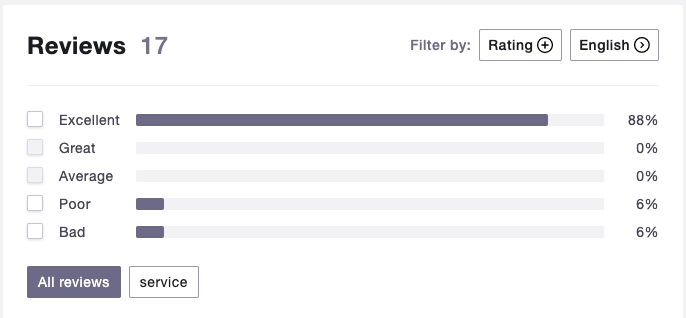 Key Takeaways
There's no doubt that sendmeyourcv.com has put a lot of work into their website. However, the quality of their work is a clear contrast from what they promise. The only great things about their service are the timely turnaround of their service and reasonable pricing. Considering that the content of their CVs and resumes is filled with errors, plagiarism, and wrong formatting, you would do yourself a world of good by hiring another writing service.
Users SendmeyourCV.com Reviews