Trusted by hundreds of customers, excellent in career development help, providing service both to the companies and individuals – this is all you can find on cvpilots.co.uk website if you stumbled upon it when searching for a CV writing service.
The professionally designed website and excellent copy make it look like the best cv writing service UK, trustworthy, legit, and ideal for career search help. But when browsing CVPilots website, you are starting to have doubts since this company is costly.
So, in my CV Pilots review, I decided to research if this company can handle what they are promising.
Offered Services
When you search for CV writing help, you are not thinking about the papers you might need to get. Yet, there is a long list of services you should consider when ordering career writing help online. So, cv pilots can supply you with the following:
CV writing
LinkedIn profile writing and optimization
Cover letter writing
Professional bio
CV editing service.
Unfortunately, the team does not offer any thank you and follow-up letters and well as submission service. The submission service allows you to get placements and emails sent out to our potential employers.
Prices, Discounts, and Special Features
The CV pilots team is a professional service, and they are costly. The price for their service starts at £599.00. If you compare it with other companies, you will see that the most expensive package costs less.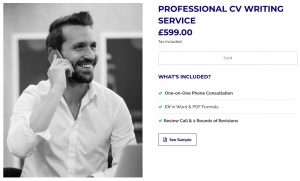 So, what will you get for your £599.00? You will get career inventory, consultation, CV in PDF or word format, and review call when your paper is delivered. If you need other supplementary papers or profiles, be ready to pay more.
And there are no discounts or special features other than the ones mentioned before. Of course, consulting services are not cheap, but they are useless when you do not need ones.
Other services: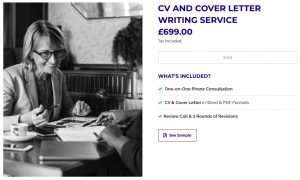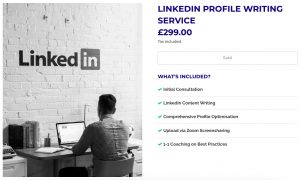 Writer Certifications and Service Guarantees
When writing our cv pilots review, I wanted to learn about the writing team behind this service. But while I was searching for the information, I had not found any. The only information you can get there is the story of the CEO and not the team. These guys cover so many subjects, and it looks like they can serve many clients, but we know about their founder only and not about team members.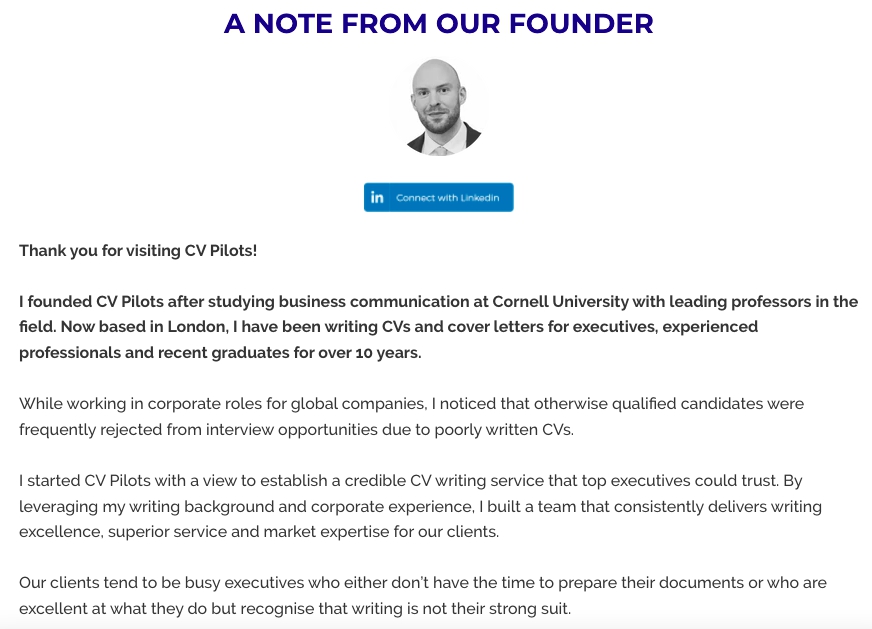 As for guarantees, there is a separate section on the About us page. There you can see that this company cannot guarantee hire or invitation to the interview. Usually, resume and CV writing companies ensure that you will get at least an interview invitation.
Quality of the Ordered Product
I wanted to ask so many questions to the company representative when placing an order here. However, these guys are available over the phone only and do not provide 24/7 support. So, since I am like other job seekers short of funds, I decided to try out the smallest package and ordered CV writing and consultation.
I will cover the delivery process in the next section of this review, and here I will tell you more about the quality of CV you can get from this company. I had a couple of calls with the team before they started writing my CV. As for the consultation, there were some discussions about the interview and other staff. The CV I have got had not been special. It was dull, and I found a couple of inconsistent parts. They did not meet my expectations. So, I asked for some changes.
Meeting of Deadlines
As for the deadline, there are no details on when you will get your CV written. They cannot deliver it in two days, and I waited for about a week before getting the first draft. It looks like they decide what the deadline is, and you cannot influence that.
Trustpilot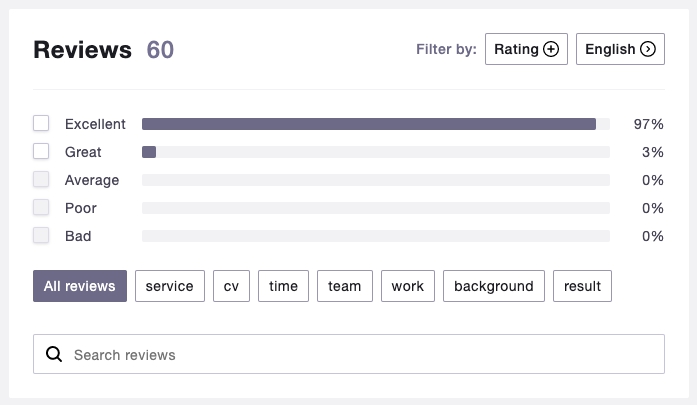 Imagine my surprise when I opened the CVPilots review website on TrustPilot and read that all of them are positive with 5 or 4 stars and great comments. I couldn't believe what I'm looking at based on what I learned on this website, their lack of guarantees, and my experience with it.
So, I decided to look a bit closer, checking the CV Pilots review page one by one. Soon after I started this, I realized – these all look really, really fake.
If you take a look at them, none is specific. There aren't any details that will show you that the review is written by an actual customers. They are just boasting about the quality of their CVs without sharing details about the writers, the support, etc.
The majority of the comments are just a sentence long, no more than 10 words. The company is great, they say. My CV was of high quality, they say. There's no detail whatsoever. It seems like the goal was to create as many positive comments as popular, so much that they didn't have the time or patience to write something more specific.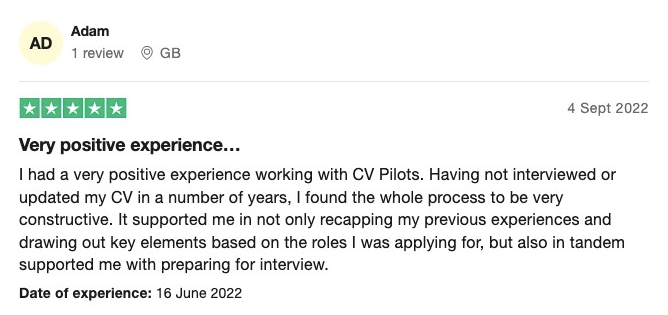 The one by Adam from June of 2022 was the strangest review I've ever read. "It supported me in not only recapping my previous experiences and drawing out key elements based on the roles I was applying for, but also in tandem supported me with preparing for interview." Who uses such a complex language to write a testimonial?
Lastly, the biggest red flags about these testimonials… Most of the reviews are written by people that have never written another review on TrustPilot, as if they only used this site to review CV Pilots.
There's such a thing as 'too good' testimonials, too. Even if the service was as great as they promised, you cannot make every customer happy. It's always a red flag when a company has all-good comments without a tiny complaint from anyone.
Key Takeaways
There are not many Cvpilots reviews online. It looks like these guys are too expensive for the majority of job seekers. Of course, such a service cannot be too cheap, but the price of more than 400 pounds is too much even for the excellent service. When you search for a new start, you have a really limited budget for such a service.
The quality of writing was not bad, yet it is pretty standard. I had not found any creativity in my CV. Of course, it is keyword optimized and passes all the software products used by HR professionals. But, still, it lacks originality, and the CV is not catchy.
The phone consultation is aimed to get you prepared for the interview. It is a friendly service when you do not know where to start preparation. So, if you can spend (most of us cannot) about 500 pounds on your job search, you may use CV pilots company, otherwise, find another team.
Users CV Pilots Reviews