To me, The CV Store was a confusing website. At first, I thought it was a reviewing service and I got excited about checking out the evaluations. This is what they say: "CV writing experts and members of the world's only professional association dedicated to elevating the expertise of CV specialists." What does that even mean? If you thought that's just throwing some big words into a big sentence, you're right. The same thing goes on throughout the entire website.
It's an actual CV writing service. I ordered a product there, so I could see how it would rate among the other agencies I've tested so far. Read on my CV Store review; I'll give you the insights.
Offered Services
After the initial confusion caused by the statement I quoted above, it was easy for me to realize what services I can get from CVStore. They are clearly listed on the menu on the left.
Same day revamp (it's a quick edit for your CV)
Graduate/entry level CV
Professional package (you get a professional CV and cover letter)
Career change CV
Director/executive CV
LinkedIn profile review (it's a rewrite of your profile)
Cover letter
The list of services is good. I would add resumes for those who apply for jobs internationally. However, the offer covers the documents that most job applicants need in the UK.
Prices, Discounts and Special Features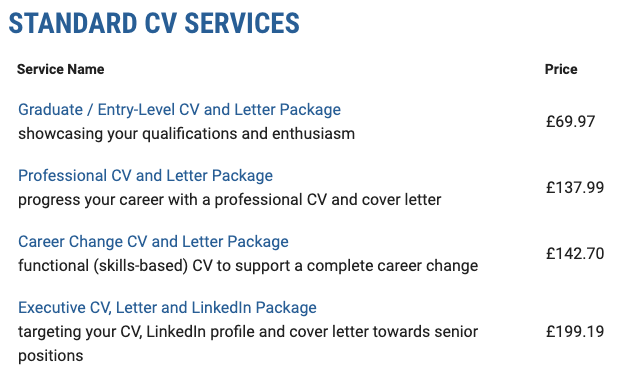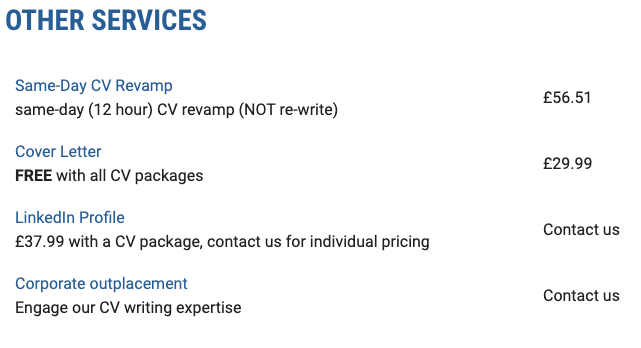 I liked the prices at TheCVStore. They are affordable.
If you need your CV to be edited, you can get it back the same day for only £56.51. This service includes an improvement of the visual appeal, correction of spelling and grammatical issues, and comments on the issues that require improvement.
With the Graduate/entry level package, you get a CV and a cover letter for £69.97. The Professional package includes a CV, cover letter, two interview advice eBooks, and unlimited revisions over the course of a year. You get that for a price of £137.99.
The most expensive quote is for the Medical CV package (£299.99).
Since the prices are so affordable, I couldn't help but wonder: is the quality good enough?
Writer Certifications and Service Guarantees
The website mentions that the company deals with in-house CV writers. Then you'll see claims that The CV Store is an industry leader in career advice and CV writing, with offices in the UK, Malaysia, Australia, New Zealand, and the USA. It seems like an exaggerated claim, and there's no way for us to check its credibility.
Other than this information, there are no details about the actual qualifications of The CV Store writers. Ideally, I'd love to work with a writer who knows something about the industry I target. There are a few websites offering such expertise. This is not one of them.
Quality of the Ordered Product
I ordered the Professional package. It's an offer for job applicants with a few years of experience, and it includes a CV and a cover letter. I got the package in two days. That's very satisfactory delivery time. The quality, however, was bad.
I already mentioned the lengthy sentences that don't make sense. They are all over the website. The CV and cover letter were written in the same style. The writer tried to sound intellectual, but it only made the content silly. When an employer sees such a pretentious CV, they already know that they won't like that candidate.
I also received two interview advice eBooks, which were useless. They contain outdated tips that no longer work for interviews. Both of them were totally the same. The second eBook was a rewrite of the first one. There are great interview tips that you can get online for free.
Meeting of Deadlines
The completion times for the Professional package are from 24 hours above. I got my products in two days. That's a great achievement. However, the quality of these products wasn't good enough. The content was unique, but it didn't work for a job applicant.
CVs and cover letters need a consistent and clean style that's easy to read. In this case, I got endless sentences. Somehow, the writer managed to make a CV unreadable. It's a standard format that requires a few clear details.
This one had entire sentences where a short bullet list was needed. Don't let me started on the cover letter! It was an absolute disaster.
Trustpilot
I couldn't write my The CV Store review without taking a look at one of the most used testimonial pages out there, Trustpilot. If you take a look at it, their profile looks amazing. There are a few comments, but everything is positive.
Such profiles look too good to be true, and they often are.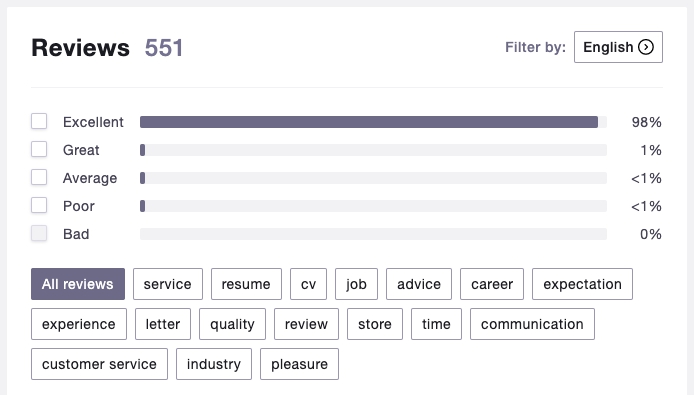 Of course, it is not strange if a customer is happy with their resume or other service, but nowhere in these testimonials does the person say that they got a job. They just keep praising the company without any details, as if the repeated comments are not strange enough.
For example: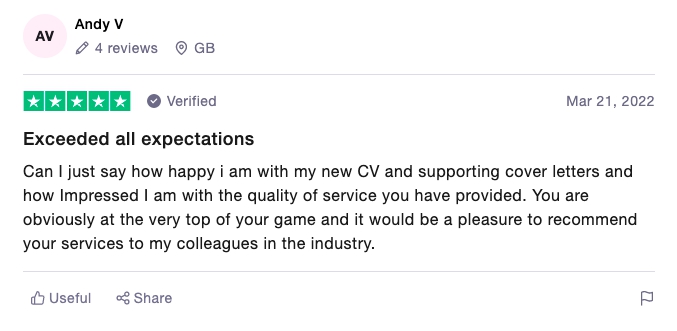 Overall, the profile on this site looks very unnatural and this makes us wonder if the company is generating some nice comments to boost their rating.
On top of this, I found it strange that the website has such a limited number of testimonials. On their official site, they mention that they have thousands of customers and many happy clients. Even their testimonials page is full of nice feedback, even too nice to be realistic.
This made my wonder – if The CV Store is so popular, how come customers don't go to Trustpilot to share their experience with others?
Key Takeaways – The CV Store Review
TheCVStore.net promises free revisions, which I didn't get. When I complained about the quality of my products, the writer sent a message, trying to convince me that they were good enough. They suggested I should send the application.
The prices on this website are affordable, but I can't recommend it. I know what recruiters and hiring managers are looking for. With content like this, you won't get their attention.
Users The CV Store Reviews