A service that guarantees to assign the most elite CV writers in the UK to your order certainly sounds good. UK Careers Booster is a brand that looks good from all aspects. It has a good offer of services, fair prices, and a great team of talented writers. Its online reputation seems impeccable; everyone who orders a CV here is satisfied with the quality.
I decided to look into it. I analyzed the website from different aspects to see if it performs well. I also ordered a CV and compared it to job application documents I've received from other services. I'll share my insights in this UK.CareersBooster.com review.
Offered Services
Since it's a UK service, it's focused on delivering CVs. However, resume writing is also available as a service. That's a good thing. Many British job hunters wish to work overseas. When asked to submit a resume instead of a CV, they are puzzled. This company includes that service in its range, so they can count on it.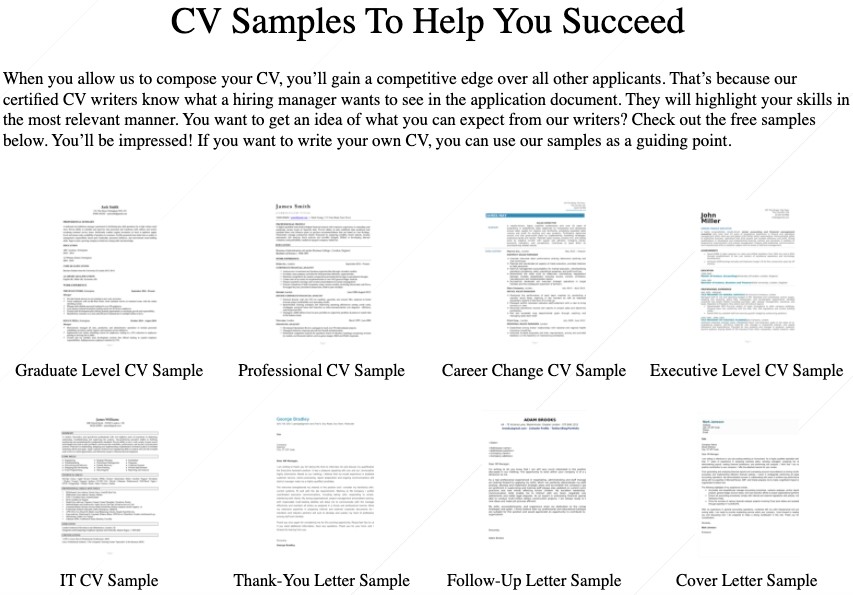 In addition, UK CareersBooster also offers cover letter, LinkedIn profile, thank-you and follow-up letters, and various packages of products. You can get your entire documentation for a job application at a single website.
Prices, Discounts and Special Features
If you only need CV writing, you'll pay £79 for the longest deadline. A LinkedIn profile costs £59, a cover letter £39, and executive resume £129 (the company will write within 5 days). These are some of the most affordable prices I've seen from a reputable CV writing service.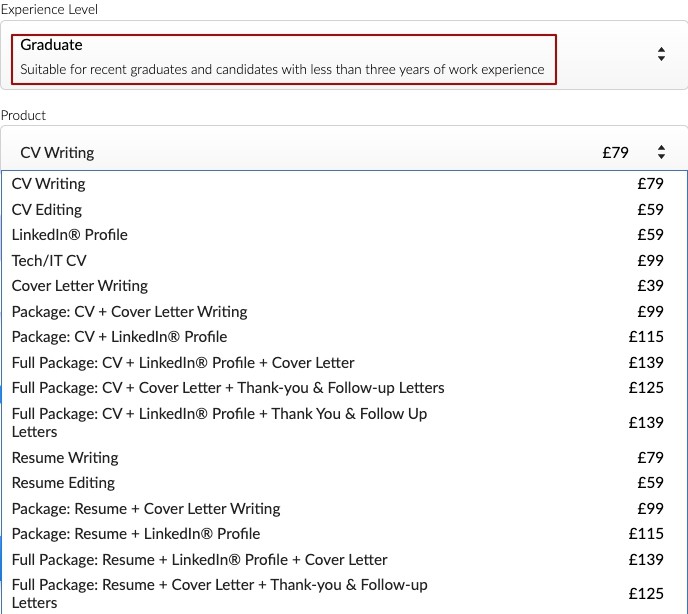 If you need to order several products, you can get them in a package. UK.CareersBooster will give you a discount on the package. For example, a package of a CV and cover letter costs £99. The full package of a CV, LinkedIn profile, and cover letter costs £139.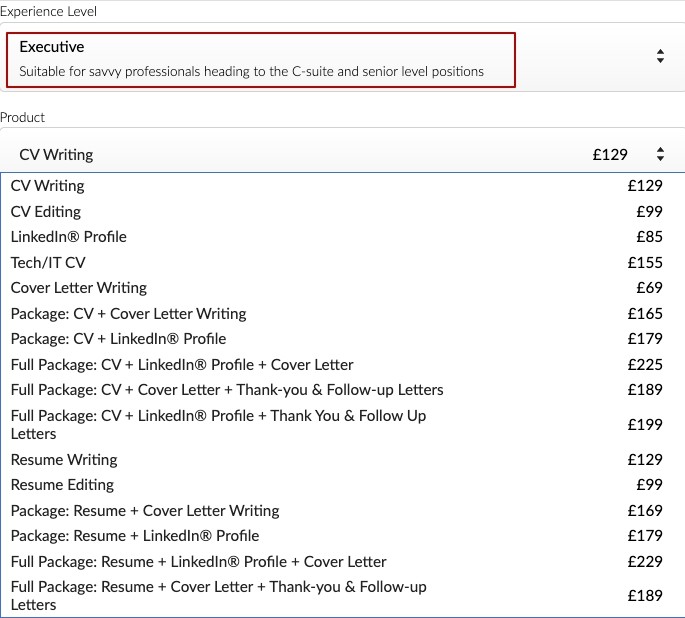 The company offers some additional services:
Key Selection Criteria for £118
E-cover letter for £10.61
Knowledge, Skills, Abilities for £44.06
Thank-you and follow-up letters for £37.59
Writer Certifications and Service Guarantees
All writers from this service are certified to write CVs following the UK standard.
The company guarantees its customers to provide free revisions if they don't receive an interview within 30 days after they get the content. Everyone gets guarantees on quality, format adequacy, timely delivery, free revisions, and unlimited ownership rights. If you don't like the final product, you can request a refund.
Quality of the Ordered Product
The reviews at this website are never based on guesses. Thorough analysis of the service in question is crucial, but so is direct experience.
I ordered a CV at UK.CareersBooster.com. I chose the longest deadline, so I could pay the most affordable price. For this price, I didn't expect extreme quality. But I got it! I was in direct contact with the writer through the entire process. He answered all my questions and accepted additional requirements.
The final result was exactly what a job applicant needs. The CV was formatted in a proper way, but it was unique enough to gain a recruiter's attention. All qualifications were listed by priority, responding to the relevant job. The writer took time to analyze the industry and develop a CV that would fit in.
What I liked the most was the early delivery of my CV. The deadline was five days, but I got it in four.
Meeting of Deadlines
There's nothing unclear when you place an order via. Each option you select comes with a whole range of well-defined delivery indicators. Here's what you can expect to see on their website before placing an order:
Experience level: The agency doesn't treat all resumes the same way. On the contrary, they will customize your CV to make it look appropriate for a given seniority level. It can be anything from an entry-level resume to an executive-level CV.
Type of product: You can choose from a variety of products, but I presume you are going to pick a typical CV here. However, feel free to check out the entire website – perhaps you'll find more items that matter to you.
Urgency level: Another important detail is the urgency level. Careers Booster allows you to choose the delivery period, so you can obtain your resume in five days or even in 24 hours. Of course, this little detail also impacts the price of the service.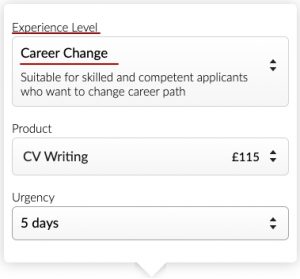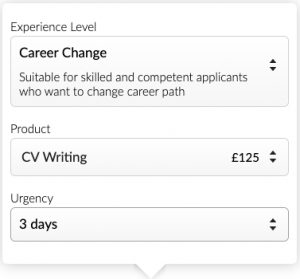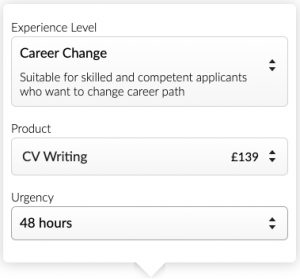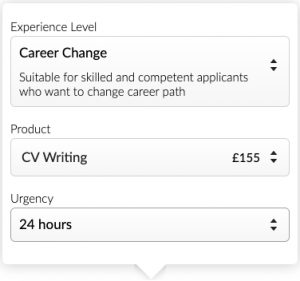 Personally, I like reading the website's terms and conditions. This is very helpful because I get to discover little details such as this – the specified deadline is valid from the moment the order is paid. Therefore, the main thing when ordering is not to delay filling out the questionnaire or providing your current CV. I instantly filled out the questionnaire, which helped me speed up the entire process.
That's exactly why I received my CV in four days instead of the indicated five. Careers Booster proved to be efficient, but I believe I also contributed to it because I filled out the forms in a timely manner. I analyzed tons of resume writing services to date, so I can conclude that CareersBooster is one of the finest in terms of respecting the predetermined deadlines.
Individualized approach
Another thing I want to say about Careers Booster is the fact that they provide each client with a strictly individualized approach.
First of all, the website alone has lots of different features that you can choose from. Instead of ordering a generic document, you can now order a highly specific writing solution such as:
Graduate CV
Executive CV
Cover Letter
LinkedIn profile
CV editing
Tech, medical, or military CV
These and many other options are available on the website, which is great since you can now order a document that will be tailored specifically to your needs. I really appreciate that Careers Booster adds an entire section to their website to show samples of different CVs. That's how I could learn about the structure and format of a medical CV, for example.
But that's not all – when you place an order, you are assigned a personal writer who will work on your project. I remember when I was ordering my first resume from Careers Booster. I was really worried about it because it was such an important document and I didn't want to mess it up.
But then I talked to my writer, Bridget, and she made me feel much better. She was really patient and explained everything I needed to know about the process. In the end, I got the right resume that helped me get the job I wanted.
Besides that, all writers and customer service agents really pay attention to the needs of their clients. They ask you a lot of questions to get to know you and your professional goals.
And this is only the beginning – once they have a good understanding of what you want and need, they start providing you with tailor-made services that suit your unique situation perfectly. It means that you will not get a stereotyped paper from them, but the one that is written according to your specific instructions.
"Guarantees" are another interesting aspect of their website. In this section, Careers Booster explains that they revise clients' resumes free of charge if the applicants don't receive a job interview invitation within 30 days. I actually tried it once and their customer service reps answered promptly to send my CV for revision.
So, if you are looking for a reliable and professional writing service that will provide you with a unique and customized solution, Careers Booster is probably the right choice for you.
Website Usability
One thing this service has never defaulted on is giving its clients a glimpse of what they might like. There's a page filled with resume examples for potential clients to select whatever format works for them, and if, for any reason, their desired sample isn't there, they can state it as well.
Career booster reviews are centred on how easy their user interface is, plus they have a chat section on the site to communicate via chat with the team of customer support in case of any questions. Without customer support, you might get confused about certain things, plus you might have questions that you need answers to. Having a live chat with the customer agent will put you through in record time.
Our careersbooster.com reviews aren't based on guesswork but facts. The company has a blog to post relevant articles to keep their target audience informed and draw traffic to their page. This is a brilliant move because it's been proven that service-offering websites with blogs have higher chances of driving traffic to their main page. After all, they'll use the blogs to optimize keywords and generate more clicks.

The frequently asked questions page answers many questions you might have, so you'll have ample knowledge about the company and its services. If for any reason, you don't find the answer to the questions you might have, you can leave a message via chat on the chat site.
The only major problem with this company is the absence of customers' reviews on the site. This can be a huge flick off for some people because how do you analyze the authenticity of their services without reviews from clients who have used them?
Usually, when people are satisfied with a service, they tend to leave positive reviews of their experience. When they are unhappy, they tend to leave negative reviews, so seeing no reviews on the site is unnerving.
Key Takeaways
My experience with UK CareersBooster was highly positive. The price was more affordable than what I'm used to, but the quality was better. It looks like a paradox, but it's the exact type of service we're all looking for: one that delivers great content for an affordable price.
This is a highly professional agency that earned itself a good reputation among its users. Feel free to drop a comment with your own experience. If you have questions, write them in the comment section and I'll try to answer them all.
Users UK Careers Booster Reviews