A reader of this website suggested ResumesPlanet as the best CV writing service. At first, I was puzzled. I knew this company had an impressive reputation for resumes, but I never thought of it when wondering about CVs. So I decided to check and see. As it turns out, Resumes Planet is a versatile agency that works for any job application document you want.
I ordered a CV and I'll share my impressions from the experience in this review.
Offered Services
The range of services at ResumesPlanet.com covers all types of job application documents for applicants at all levels. This company is mostly focused on resume writing and editing. However, it also offers CVs (writing and editing), cover letter, thank-you and follow-up letters, and LinkedIn profile writing.
To order any product at the website, you should choose the service, complete a brief questionnaire that gives the writer basic information, and talk to the writer to communicate your goals. Once you submit an order, the company will choose a writer with relevant experience to work for you.
Prices, Discounts and Special Features
Resumes Planet offers a wide range of services, so I want to explain them one by one. The most important detail you need to know is that prices, discounts, and special features depend on several parameters, including delivery time and quality level.
1. Prices
The prices are not the most affordable you can find on the CV writing market, but they do reflect the quality of the service. When I was preparing the resumes planet review, I check several pricing options with different parameters and inputs. For instance, if you want a professional CV written within three days, it will cost you $149. However, Resumes Planet will charge you $189 for the same document if you need it in 24 hours.

2. Discounts
If you order more than one document, you can take advantage of various discounts. Discounts vary from 15% to 20% based on your specific needs and writing requirements.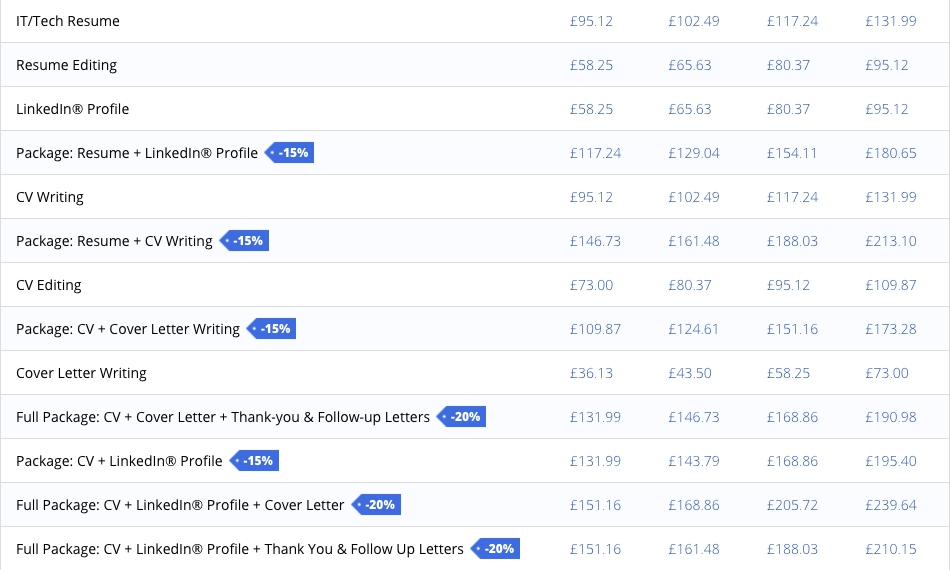 But let's focus on this option: Resume + Cover Letter Writing. In this case, you can expect a 15% discount because you are ordering a full package of services. If you only want an entry-level writing quality, it will cost $135 to receive your package in five days. On the other hand, the same service will cost you $219 if you need a resume and a cover letter within 24 hours.
3. Special features
The thing I appreciate about Resumes Planet is its portfolio of special features. For instance, you can order a package consisting of Resume + LinkedIn® Profile + Cover Letter. In the case of entry-level writing, you can get all these documents in five days for $189.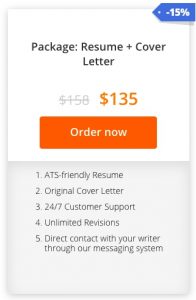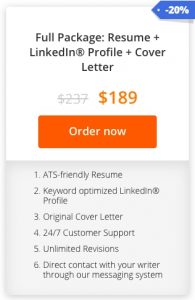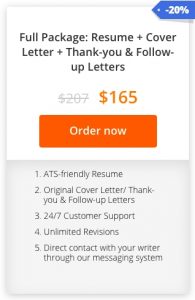 But special features cover a lot more aspects of resume writing. Some of the most notable options include the following:
Thank You & Follow-up Letters for $49;
Resume distribution to employment agencies for $59;
Interview tips (free);
List of 10 job sites (free);
Key Selection Criteria document for $159.90.
All these special features can help job seekers stand out and find a suitable position quickly and effortlessly. I encourage you to check them out because you will probably find at least a couple of special features that suit your interests.
Writer Certifications and Service Guarantees
This is my main point of interest when reviewing a CV writing agency. I try to find out if the writers are qualified enough for delivering this type of services. A freelance writer with general education doesn't know anything about the UK job market. You need someone who understands it. According to the claims at the website, Resumes Planet assigns only certified resume and CV writers to the orders. They offer a guarantee for quality and professionalism.
Each customer can also rely on guarantees for refund, ownership rights, revisions, proper CV format, and timely delivery. This service also offers a 30-day guarantee for an interview. If you submit the CV and you fail to get an interview within 30 days, they will completely revise the content without an extra charge.
Quality of the Ordered Product
My team and I ordered a CV with a deadline of 3 days. I'm used to seeing superficial content when setting a short deadline for CV writing. But that wasn't the case this time. The ResumesPlanet writer understood exactly what I needed. I requested a CV for a tech lead competing for a high-level position at a tech company. I received a well-formatted document that included all the information I provided in a very structured manner. Although it's just a CV, the writer managed to make it attention-grabbing by putting the most important information first.
Meeting of Deadlines
The writer of my CV delivered the content on time. He asked if I wanted any revisions, but the CV was so good that I couldn't think of anything to change.
I chose the deadline of 3 days, but deadlines of 5 days, 48 hours, and 24 hours are also available. The prices grow progressively towards the shortest deadlines. That's why I recommend ordering sooner; you get the same results for a lower price.
Key Takeaways
Resumes Planet is a trustworthy agency that can fulfill your expectations for all types of professional biographies. From entry-level positions to executive resumes, they are able to write high-quality documents that guarantee to grab a recruiter's attention. But that's not everything – I also want to mention a few notable details.
ResumesPlanet is eager to show visitors real-life CV examples and it also runs its own blog, which is always a plus in my book. These are very useful learning resources that can help you understand what a great resume looks like and how to make yours just as good.
For instance, you can learn about interesting CV writing practices or mistakes to avoid. The blog makes it easy to identify the dos and don'ts of resume writing, and that's why I appreciate it. You can also find useful resume examples that are similar to your own experience, so you can "steal" a few tricks.
Another important thing to know is that the customer support team is responsive and helpful, which is always a relief. I contacted the support team to ask a few questions about the ordering process and they were very responsive and helpful.
They answered all my questions clearly and made sure I was satisfied with the answers before ending the chat. I also like the fact that you can get in touch with the agency through multiple communication channels, including email, live chat, and toll-free phone.
I also want to say a few words about the summary. It is pretty informative and looks professional, so I can't help but trust the credibility of this agency. In conclusion, I would recommend Resumes Planet to anyone looking for a reliable and professional resume writing service.
Their team of experts will make sure that your document is tailored to your specific needs and that it meets all the standards of quality employers are looking for. In short, if you're looking for a reliable resume writing service that can deliver results, Resumes Planet is a great choice.
Users ResumesPlanet Reviews
Resume Planet delivered on their Promise
The writer did an excellent job; they assembled a very thorough resume from a sizable selection of experience and coaching credentials. It has wowed those who have seen it. In addition, the author worked carefully on modifications, adjustments, and fresh ideas. Companies that meet requirements are to be commended since it demonstrates that they are serious about their offerings. This firm promised me a rewrite if I didn't get an interview, but since I did, at one of my top corporate options, I have to say that they did an excellent job.
K Oliver
September 1, 2022
I found the experience of working with Resumes Planet to be very positive. The staff was very helpful in guiding me through the process, and I was very pleased with the final product. The resume they created for me helped me to get a job that I really wanted. I highly recommend them!
Wilson
August 22, 2022
I found the staff at Resumes Planet to be very helpful and knowledgeable about the resume writing process. I was more than pleased with the final product and felt that it accurately represented my skills and experience. I would definitely recommend their services to anyone looking to update or create a new resume. The only detail I wasn't pleased with was the price, but overall I thought it was worth it for the quality of the final product.
George97
July 29, 2022
I highly recommend Resumes Planet! I was extremely impressed with the quality of their work – my resume looked fantastic. The best part was that the turnaround time was really quick, so I didn't have to wait long to start applying for jobs. The only thing I didn't like is that the writer could've been more accessible, but that's ok because he still did the job properly and on time.
Phoebe
June 15, 2022
Resumes Planet is the best resume writing service I have come across. I was hesitant to order a resume online, but I am so glad that I did! The process was simple and the finished product was excellent. My CV looks amazing and I have already received several job offers. Thanks, guys!
G. Flatcher
May 25, 2022
I was really happy with the service I received from Resumes Planet. My resume looked amazing and it landed me my dream job. The only thing I would say is that it was a bit pricey, but it was worth it in the end.
Joseph
May 17, 2022
The resume the created from a questioner was truly a confidence boost. I am very pleased with the entire experience from start to finish and have recommended Resume Planet to others, as I will definitely come back when if ever needed again. i highly recommend resume planet
ANDREW STUAT
April 29, 2020